PEOPLE
"850 years of historical records" along with Nirayama reverberatory furnace that ought to be passed down to future generations. ~The long-awaited new storage warehouse is completed and it has encouraged preservation, restoration, and utilization~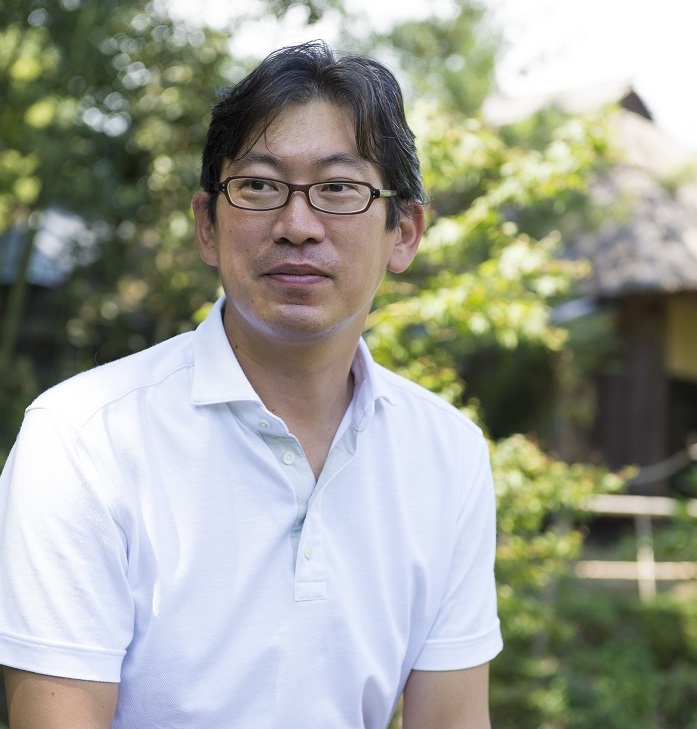 Representative Director of Egawa Bunko non-profit incorporated foundation
The 42nd head of the Egawa Family
PROFILE
1970 Born in Houston, United States. A first-class architect.
2009 Appointed as Representative Director of Egawa Bunko incorporated foundation
2012 becomes a non-profit incorporated foundation
Mr. Hiroshi Egawa is the 42nd head of the Egawa family who is six-generation after the 36th head, Hidetatsu Egawa Tarozaemon—who constructed the Nirayama reverberatory furnace, one of the constituent assets of "the heritage of industrial revolution in Meiji Japan." Mr. Hiroshi Egawa serves as a Representative Director of Egawa Bunko non-profit incorporated foundation that collected and managed over 70,000 valuable historical records. He has passionately spoken with the Managing Director of National Congress of Industrial Heritage, Ms. Koko Kato regarding the Japanese ancestors. How to preserve and pass down their legacy and beliefs--how they courageously challenged to achieve technological innovation and to build a new country, by anticipating the tumultuous period that is to come at the end of the Edo period--to the following generations.
■The pride and unity of the "Kanaya Juu-San-ninshu" ("Thirteen People of Kanaya") rooted in the land of Nirayama even up to today.
Ms. Kato: I do know that the Egawa family is a family of magistrates who governed the Izu region for generations, but what are the roots of the Egawa family to begin with?
Mr. Egawa: Originally, it was one of the clans that flourished in Yamato Province, known today as Gojo-shi, Nara Prefecture. The roots, as I have heard, are that of Seiwa Genji. However, about 850 years ago in 1156, he was defeated and drifted, with his thirteen vassals, towards the Izu region. Since then he settled in this land and he ended up serving as a magistrate during the Tokugawa era.
Ms. Kato: It is an incredible family. Which head of the family came to Nirayama?
Mr. Egawa: It was at the time of the 9th one. It is believed that it was around the same time in the later Heian period when Minamoto no Yoritomo drifted to Izu.
Ms. Kato: So that is how from then till the 42nd head,--Mr. Hiroshi—the family protected and inherited the Egawa household in the land of Nirayama.
Mr. Egawa: Yes. My great-grandfather decided to move to Tokyo. Since then Nirayama's Egawa residence was managed while living in Tokyo instead. My great-grandfather is a man who inherited the business of Nirayama reverberatory furnace from Hidetoshi, the 37th head; for my great-grandfather was the younger brother of Hidetoshi. Hidetoshi inherited patrimony at the age of 16, but he had an early death at the age of 24. Therefore, the younger brother became the following head merely at the age of ten. Hence, I believe they moved to Tokyo either in the middle or the end of the Meiji epoch. Nevertheless, the majority of the people who are connected to the family are still in Nirayama, so every time there is an event, they head to Nirayama's Egawa residence. I too lived that way since I was a child.
Ms. Kato: I assume there was some sort of sales clerk or absentee that acted on the head's behalf when they were absent. I know that every famous family always has one. For instance, Satsuma's Shimadzu family also had someone who served them for generations, and they still continue to support the business and activities of Shuseikan today.
Mr. Egawa: It is true that the descendants of the Thirteen People of Kanaya--that also drifted along to Izu 850 years ago--continues to help out Egawa Bunko up to today. Of course, there are many other capable personnel.
Ms. Kato: It is truly wonderful that you can track 850 years' worth of familial history. Egawa family must have had an ethos that allowed them to challenge the cutting edge technology. As represented by Hidetoshi who challenged to build the Nirayama reverberatory furnace with just written information--solely from Dutch books. I assume when Mr. Hiroshi was a child, for example, had tales told about your ancestors from your father?
Mr. Egawa: Well it is quite an embarrassing story. When I was a child, I didn't really realize the greatness of my ancestors. Even in terms of reputation, I was certainly famous in Nirayama, but you hardly hear about us outside. Thus, as a child, I thought "I guess my ancestors are only known in Nirayama." Moreover, my father disliked chatting volubly about the ancestors' achievements, so I didn't really have a chance to hear stories like the Egawa family's mottoes. I believe I just became more conscious naturally--that I am a member of the Egawa family--as I went to events at the Egawa residence.