PEOPLE
The History of Iron that Began in Kagoshima has Dramatically Advanced Japan's Modernization~I Want to Pass on the Vitality of the People of Satsuma to the Younger Generations Whom Will Live in the Future~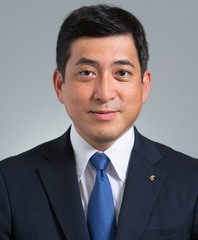 Governor of Kagoshima Prefecture
PROFILE
October 1965: Born in Kagoghima City, Kagoshima Prefecture
March 1988: Graduated from the University of Tokyo, Faculty of Law
April 1988: Joined Ministry of International Trade and Industry
Chief of Hitoyoshi Tax Office, Kumamoto Regional Taxation Bureau

First Secretary, Embassy of Japan in Italy

Deputy Director-General, Minister's Secretariat, Ministry of Economy, Trade and Industry
June 2018: Director-General of the Kyushu Bureau of Economy, Trade and Industry
December 2019: Retired from Director-General, Kyushu Bureau of Economy, Trade and Industry
July 2020: Appointed Governor of Kagoshima Prefecture
To be Proud of the History of Iron in Kagoshima Prefecture
Kato  Thank you very much for your time today. Kagoshima Prefecture is home to three of the component parts of the "Sites of Japan's Meiji Industrial Revolution": the former Shuseikan (former Shuseikan reverberatory furnace, former Shuseikan machine factory, and former Kagoshima spinning mill and foreign engineers' residence), the Terayama Charcoal Kiln, and the Sekiyoshi Sluice Gate of Yoshino Leat. I was looking forward to hearing from Governor Shiota, who is also the Chairman of the World Heritage Council of "Sites of Japan's Meiji Industrial Revolution."
Shiota It is my pleasure.
Kato You were appointed Governor of Kagoshima Prefecture in 2020. Nonetheless, I remember the first time I met you was before the "Sites of Japan's Meiji Industrial Revolution" were registered as a World Heritage Site in 2015, when you served as Director of the Iron and Steel Division at the Ministry of Economy, Trade and Industry.
Shiota  Yes, that was in 2011. One day, Ms. Kato stormed into my office and spoke to me passionately in regard to industrial heritage. Later, she came to see me again after reading my column on Kagoshima and iron in the Nikkei Sangyo Shimbun (Daily Sangyo News), and I believe that our conversation led to us establishing the connection we have today.
Kato I was very impressed by your column, which was very knowledgeable and persuasive in regards to iron, and I was eager to meet you again. In the course of our meeting in person and our long conversation, I realized once again that the history of Kagoshima Prefecture and iron is indeed very deep.
The Shuseikan project was born by Shimazu Nariakira, the feudal lord of the Satsuma clan, and the stage for the project was the former Shuseikan, where many factories, including a reverberatory furnace, were built by cultivating the bamboo forest in present-day Iso, the town of Yoshino-cho. The Shuseikan built by Nariakira was destroyed by fire during the Satsuma-British War, but the Satsuma clan, seeing the overwhelming military power of the West, decided to actively adopt Western technology, and it was rebuilt by Shimazu Tadayoshi in 1865. This background also gives us a sense of the spirit of wanting to support Japan.