PEOPLE
Kamaishi's "Miracles" and Overcoming Disaster: The Huge Opportunity Provided by World Heritage Site Inscription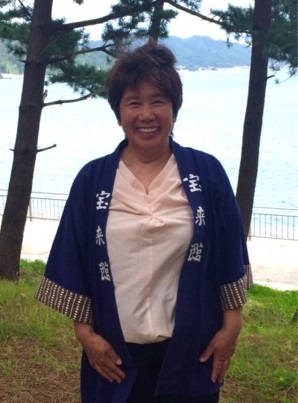 Proprietor, Houraikan Inn
PROFILE
1989 Became proprietor of Houraikan Inn
2008 Won the grand prize at the Mainichi Newspapers' Green Tourism Awards 2008
April 2015 Reopened Houraikan Inn following refurbishment
People Keep on Persevering
During the first Rugby World Cup ever held in Asia, the performance of the Japanese team generated tremendous excitement. In Kamaishi, morale was boosted after the city was chosen as one of the 12 venues, and everyone was going around saying, "Let's hope the rugby attracts plenty of attention." But I don't think anybody imagined it would create the huge sensation it actually did.
On September 25, 2019, the match between Fiji and Uruguay was held at the Kamaishi Unosumai Memorial Stadium, which had been newly built on the site of the former local elementary and junior high schools destroyed in the tsunami. This small city of Kamaishi hosted around 16,000 people: the viewing stands were brimming with smiling faces and cheers, and an incredible feeling of exhilaration enveloped us. Yet, in the aftermath of the earthquake and tsunami we thought we would never see another happy day. We had lost even the strength to dream. But I couldn't help being impressed at how people just keep on persevering after they're knocked back.
Kamaishi's Two "Miracles" Started 2015
Kamaishi's miracles had started in 2015. In March, Kamaishi was selected as a Rugby World Cup venue, and in July the Sites of Japan's Meiji Industrial Revolution were inscribed as a World Heritage site. Inside the special event space at the Kamaishi Unosumai Memorial Stadium, a display was set up featuring the Hashino Iron Mining and Smelting Site as one of the newly inscribed World Heritage sites. For us, these two developments—Kamaishi's selection as a Rugby World Cup venue and the Hashino site's selection as one of the Sites of Japan's Meiji Industrial Revolution—were linked. What they had in common was hope. And Koko Kato was the person who brought us that hope.
The way I see it now is that, just when we were looking up at the heavens praying for something to hope for, Koko was "above" Japan scanning the country, searching for somewhere that might make a good industrial revolution site. Then her eyes fell on the Hashino Iron Mining and Smelting Site, and said "Yes, I've found one!" Well, that's the way I picture it, anyway [laughs].
I first met Koko in 2007, about three years before Kamaishi's Hashino site was added to the group of sites comprising Japan's serial nomination for World Heritage registration. At that time Koko said that the Hashino site had merit as an industrial heritage location. She pointed out that its merit was not in the arrangement of its stones, but in the people who had preserved the site over time. Her words gave us the confidence to take action and aim for World Heritage registration.
But then, in March 2011, we were hit by the Tohoku earthquake and tsunami. In the immediate aftermath we were visited by people with rugby connections; I suppose they were trying to do what they could to boost our morale. They often tried to cheer us up by reminding us that the Rugby World Cup was coming to Japan in 2019. So I said, "In that case, I'd like to see it held in Kamaishi," and that was what prompted us to start lobbying for selection. Of course, it was thanks to the efforts of a great many people that my wish eventually came true, but I believe that if I hadn't met Koko, I would have just continued to feel defeated and would never have had the optimistic idea that Kamaishi could become a Rugby World Cup venue.
Iron Was an Integral Part of Life for the People of Kamaishi
Kamaishi is said to be inextricably linked to rugby, and that link had its beginnings in ironmaking. If it weren't for the Hashino Iron Mining and Smelting Site, Nippon Steel Corporation would never have existed in Kamaishi, and in that case the Nippon Steel Kamaishi Rugby Club would never have played rugby.
Kamaishi's population is currently around 33,000. In the days when companies associated with the critical industry of ironmaking were concentrated in Kamaishi, almost 100,000 people lived here. People whose families had lived in Kamaishi for a long time were involved in fishing and farming, but most of them combined those jobs with work in the ironmaking industry. Either that, or somebody in their family would be involved in business related to the ironworks. So, iron was an integral part of life for the people of Kamaishi. And our family's no exception: the Houraikan Inn started by my parents in 1963 served mainly as an employee holiday home for the ironworks because its holiday homes had become dilapidated. As Nebama Beach was the only resort in the area, never-ending crowds of visitors came, and on summer nights the resort never slept. I'll never forget how bright and colorful it looked when I was a child.