PEOPLE
In Industrial Heritage, It's the "People" Who Play the Central Role: How World Heritage Inscription Casts a Fresh Light on Hometown Splendors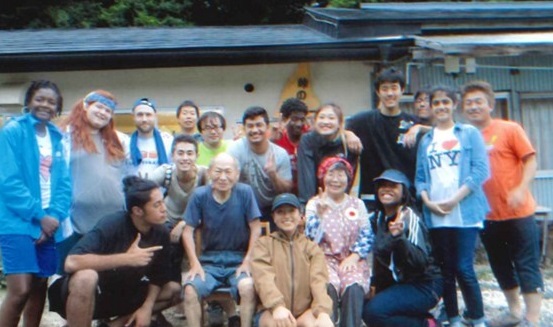 PROFILE
Born in Hashinochō, Kamaishi. Opened Tōge Chaya in April 2012 after becoming active with the Aonoki Women's Association
Information on Tōge Chaya
2-Chiwari 38, Hashinochō, Kamaishi City, Iwate Prefecture
+81(0)193-57-2005
Opening hours 11:00 to 15:00
Reservation only
Directions: 50 mins by car from Kamaishi Station
Japanese curry, a house specialty bringing people together at Tōge Chaya
Ms. Ogasawara: I run Tōge Chaya, the "teahouse at the pass," along the route from the Hashino Information Center to the Hashino Iron Mining and Smelting Site. When I first opened it in April 2012, I was seventy years old. It surprised everybody, but I started out with the feeling that "I'm still only seventy after all!" I'm glad I did, too. I enjoy being able to get to know all sorts of people. All kinds come here from all over the world. People of all ages, young and old, students and working people alike, and some come together with their families. But they've all got something in common. The thing is, they're all hungry!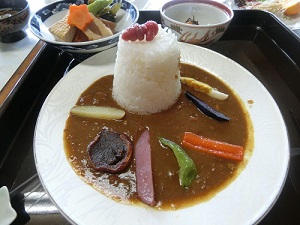 Tōge Curry– a local specialty at the Hashino Iron Minining and Smelting Site
 At Tōge Chaya, I've been serving visitors tōge karē ("curry at the pass"), which is presented to look like the Hashino blast furnace, since even before the mine site was listed as UNESCO's World Heritage. I came up with the idea myself. I thought it was a shame to serve food that you could find just anywhere to people who had taken the trouble to come from so far away – I wanted to serve something impressive, something that would leave them with a lasting memory they could take away as a souvenir. I used a cup I bought at a 100-yen shop as a rice mold and modeled the blast furnace by topping it with some Chinese artichoke dyed red with plum vinegar, then added some vegetables grown in the field behind the shop on the side. Naturally, the curry is also homemade. I add some little acacia honey that I source locally and some dried persimmons… Actually, there's also a secret to how it thickens. Although it didn't work very well at first, I had a flash of insight when I saw the mochi rice cakes we use as New Year's decorations. I experimented a little and got a good result, so I've been using mochi ever since. I'm not fussed about effort or profit. I'll try my hand at whatever appeals to me. Some people tell me, "Only 500 yen? You'd pay three times as much in the city!" But I'm happy as long as they find it delicious. "Delicious" is a magic word that brings people together, you know? When people say to me, "It's delicious!" I find it often serves as the start of a conversation. You start by asking "where are you from?" or "what do you do for a living?" and sometimes people even open up and unburden themselves of their troubles. Not long ago, a young one was in here talking about his indecision about the possibility of being transferred for work. So I said to him, "why not try anything?" he burst into tears. I'd bet he hadn't been able to talk to anyone else about that. Here's what I said to him. I said, "There might be some tough times and sadness on the road ahead of you, but when you feel down, just remember that one time you had a curry cooked by an old woman up at the Hashino blast furnace." It might be a bit presumptuous of me, but I want to support the people I've had the good fortune to encounter. I'm only where I am now thanks to the support I've received myself from so many others.
(Photo)Pesticide-free vegetables grown in the backyard. They might be misshapen, but their taste is second to none