PEOPLE
Everything is for the Economic Development of Nagasaki--Expanding Beyond the Shipping Business to Pass on Nagasaki's Culture and Industrial Heritage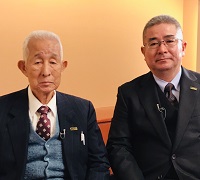 Chairman: Mr. Hidenori Date
President: Mr. Masahiro Date
PROFILE
Mr. Hidenori Date
Career:
1946: Starts working at his ancestral family business in the coastal shipping industry
1966: Incorporates family business and becomes representative director of Yamasa Shipping Co., Ltd.
2015: Steps down as director, and works nearly every day as the company's chairman, his current position
Associations:
1998: Becomes President of the Nagasaki Shipping Association, Vice Chairman of the Kyushu Federation of Shipping Associations, and board member of the National Federation of Shipping Associations, and works for the advancement of the coastal shipping industry
Accolades:
2000: Earns Minister of Transport's Award (for maritime accomplishments)
2017: Awarded Medal of Honor, Yellow Ribbon
Mr. Masahiro Date
1985: Graduates from Tokyo University of Marine Science and Technology and joins major coastal shipping company
1988: Joins Yamasa Shipping Co., Ltd.
1998: Becomes representative director of the company, his current position
Everything is for the Economic Development of Nagasaki—We are Thankful for Our Connection to the Component Properties of the Sites of Japan's Meiji Industrial Revolution and Want to Pass on its Culture
Even before Sites of Japan's Meiji Industrial Revolution was inscribed on the World Heritage List, Yamasa Shipping has worked to promote tourism through offering cruise tours such as Nagasaki Port Sail, Gunkanjima Landing and Cruise, and Gunkanjima Cruise. The company has earned high acclaim for its contributions to promoting the World Heritage route, and has received a letter of appreciation from the Sites of Japan's Meiji Industrial Revolution Route Promotion Council (established in 2016) two years in a row. We asked Hidenori Date and Masahiro Date, chairman and president of this company that is driving the tourism industry, about their thoughts on the next challenge: how to expand the value of Sites of Japan's Meiji Industrial Revolution and ensure that it continues into the future.
ーーFirst, could you tell us about Yamasa Shipping's roots?
Mr. Hidenori Date: Ships have been our family business since the time of the Tokugawa shogunate. I am the 11th generation head of the business. I think my strong sense of responsibility—that if you decide to do something you make sure to see it through—is something that has been passed down continuously from generation to generation.
 I was born in the town of Arie, in Minamishimabara City, and started working in our family coastal shipping business around the time WWII ended. Based in Arie, we transported coal by sea that was mined from the islands of Takashima and Hashima (also known as Gunkanjima or "Battleship Island" due to its resemblance to a battleship) in Nagasaki City. After the war, local business flourished including ours. We started transporting agricultural products and other goods from Kyushu to the Tokyo‐Yokohama area, and later built the foundation to build cargo ships for transporting steel stock—which became our core business.
Mr. Masahiro Date: Our company was incorporated in Nagasaki in 1966. When we were thinking of expanding our business further we created two mottoes: "Make something out of nothing" and "Pass on the real history." Keeping true to these principles, in 1966 we began developing two passenger services—Gunkanjima Sightseeing Cruise and Nagasaki Port Sightseeing Cruise—which we launched the following year.
Mr. Hidenori Date: We developed our sightseeing boat business with the advancement of Nagasaki's local economy in mind. At the end of July 1982 torrential downpours caused a great flood in Nagasaki, and the effects of the flood led to a downturn in the Nagasaki economy. Everyone, even the government, was at a loss of what to do. So in around 1998, the Nagasaki Nambu Tourism Promotion Council was established to boost tourism in the southern region of the Nagasaki Peninsula. It was made up of the cities and towns of Nagasaki, Nomozaki, Sanwa, Koyagi, Takashima, and Iojima, the Nagasaki Subtropical Botanical Garden, Nagasaki International Tourism and Convention Association, and our company. We actively participated in the council's projects, but they never seemed to lead to promoting local business and tourism. As we were pulling our hair out trying to figure out what we were doing wrong, in January 2003 I attended the New Year's party of the Japan Federation of Coastal Shipping Associations at the Sabo Kaikan conference center in Tokyo. I was president of the Nagasaki Shipping Association at the time, and at the party then-prime minister Junichiro Koizumi suggested turning Nagasaki's coal mining history into a tourism resource. And that was our first step into the sightseeing cruise business—which we have been operating ever since.
Coal was discovered on the island of Hashima in 1810. Coal mining started in 1870 and Mitsubishi became the owner of the mine in 1890. For 104 days until its closure on January 15, 1974, the coal mine island played a crucial role in the modernization of Japan. Hashima coal was of outstanding quality with a high degree of purity. The extremely hard, black coal contained little ash or sulfur. This made it ideal for making coke, a material needed in steelmaking. So, following Takashima, groundbreaking mining technology was adopted at Hashima, and the mine contributing greatly to Japan's coal industry and later to its industrial revolution. I was very proud of this fact, so I took Prime Minister Koizumi's idea to heart and translated it into action by developing the Gunkanjima Sightseeing Cruise.
Mr. Masahiro Date: I learned that Nagasaki's top three industries were coal mining, shipbuilding, and fishing in social studies class at elementary school. But after the Gunkanjima mine was closed it deteriorated to ruin and was forgotten, so attracting attention to the island posed a difficult task. We started the Gunkanjima Sightseeing Cruise in 1997 but really struggled at first. No customers came, maybe three on a good day.
(Photo) Coal mined at Gunkanjima that Yamasa Shipping Chairman Hidenori Date kept safe. It was given to him by people who worked at the Hashima Coal Mine