PEOPLE
The Choshu Five: Pioneers of Modernization and Hagi's Heritage of Trial and Error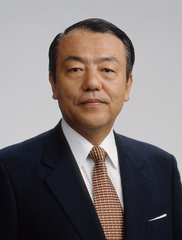 PROFILE
Date of birth: July 29, 1944
Academic background: Kyoto University Faculty of Economics (graduated March 1967)

Brief personal history:
April 1967: Joins Ministry of Finance, assigned to Budget Bureau Research Division
July 1972: Director, Tottori Tax Office
September 1975: Overseas study at Harvard Law School
July 1979: Deputy Budget Examiner, Budget Bureau, Ministry of Finance
July 1981: Counselor for Policy Planning Coordination, Minister's Secretariat
June 1983: Director, Inspection Department, Osaka Regional Taxation Bureau
August 1987: Director, Excise Taxes and General Tax Rules Policy Division, Tax Bureau
June 1989: Director, Corporation Tax and Consumption Tax Policy Division, Tax Bureau
June 1990: Director, General Affairs Division, Commissioner's Secretariat, National Tax Agency
June 1991: Director-General, Fukuoka Regional Taxation Bureau
June 1992: Director-General, Large Enterprise Examination and Criminal Investigation Department, National Tax Agency
October 8, 1993 to 2005 March 5, 2005: Mayor of Hagi City (three terms)
Current Positions:
Mayor of Hagi City: Third term started March 27, 2005
(Note: On March 6, 2005, Hagi was launched as a new city upon the merger of the original city with six neighboring towns and villages.)
Since October 18, 1993: Chair, National Council on Preservation Districts for Groups of Traditional Buildings
Since June 7, 2010: Chair, National Council for the Development of Hilly and Mountainous Areas
Since June 7, 2011: Chair, National Kaido (traditional main roads) Exchange Conference and Chair, Kaido Koryu Leaders' Association
Since June 8, 2011: Advisor, Japan Association of City Mayors
Since April 1, 1996: Board Member, National Council for the Promotion of
Outlying Islands
Since May 30, 2009: Vice Chair, Board of Directors, National Association of
Fisheries Infrastructure
Since March 21, 2008: Yamaguchi Prefecture Branch Director,
National Federation for the Promotion of Mountain Villages
Since June 16, 2006: Board member, Association of Nationwide
Disaster Prevention
Since February 28, 2006: Trustee, Japan Sabo Association
(previously board member from June 1, 2009 to May 31, 2011)
Since February 14, 2007: Chair, Yamaguchi Prefecture Wide Area Federation of Medical Care Systems for Older Senior Citizens
Since August 25, 2000: Chair, Yamaguchi Prefecture Association of
Fisheries Infrastructure
Since April 1, 1997: Chair, Yamaguchi Prefecture Council for the
Promotion of Outlying Islands
Since July 30, 2003: Chair, Yamaguchi Prefecture Local Municipal Council on Historical Sites
Since March 21, 2008: Chair, Yamaguchi Prefecture Council for Promoting
Depopulated Regions
ーーFive of the 23 component parts of the Sites of Japan's Meiji Industrial Revolution are in Hagi.
The heritage sites in Hagi date back to the early era of trial and error in Japan's industrial revolution. Shoin Yoshida, who inspired the leaders of the Meiji Restoration through his teachings, believed that massive industrialization was essential if Japan was to protect its independence from the powerful onslaught of Asia by the Western powers. This was the theme throughout the teachings at the Shokasonjuku Academy to the extent that Shokasonjuku Academy is often referred to as the starting point of Japan's modernization. To learn how the vast gap in technology between the Western powers and Japan could be overcome, Shoin Yoshida tried to go to the United States, but his attempt failed. Later he studied the West as best he could with his own students and came to believe strongly that Japan needed to adopt Western technology. Four years after Shoin Yoshida's death, five of his students in the Choshu domain defied the Tokugawa shogunate's prohibition against leaving Japan and managed to make their way to Britain where they studied at such places as University College London (UCL). The five departed Yokohama Port on May 12, 1863, just two days after the outbreak of the Bakan War (also known as the Shimonoseki War). The Choshu Five were Kaoru Inoue, Kinsuke Endo, Yozo Yamao, Hirobumi Ito and Masaru Ito .
ーーAll of them later rose to prominent positions in Japanese political and civil life. Hirobumi Ito assumed the reins of the Meiji government as the first Prime Minister and Kaoru Inoue served as the Minister of Foreign Affairs, while Kinsuke Endo was appointed the Master of the National Mint. Yozo Yamao became known as the father of Japanese engineering and Masaru Inoue was called the father of Japan's railways.
Yozo Yamao, known as the father of Japanese engineering, contributed to the establishment of the Imperial College of Engineering. After studying at UCL, he wanted to go to Glasgow in Scotland because he had heard that it was where the Industrial Revolution had started and was also a major center for shipbuilding. However, he had no funds left from the allowance he had been given by the Choshu domain. As it turned out, he was helped by another group of students from the Satsuma domain.
ーーIn April 1865, a year and a half after the Choshu Five had secretly boarded a ship sailing to Europe, the Satsuma domain sent its own group of 19 students to Europe. This group included such people as Japan's first Minister of Education, Arinori Mori, and Tomoatsu Godai, a leading entrepreneur who contributed to Osaka's economic development.
After befriending Yamao, the group of Satsuma students took a collection of one pound each and presented Yamao with 16 pounds, a generous gesture reflecting the warm ties between the two domains that existed well before the formation of the Satsuma-Choshu Alliance. This enabled Yamao to go to Glasgow where he worked during the day at the Napier Shipyard and attended evening classes at Anderson College. In a strange turn of fortune, it just happened that the Scottish engineer Henry Dyer was studying at Anderson College at the same time. Dyer would later become the first principal of the Imperial College of Engineering and taught in Japan for nine years. The Imperial College of Engineering would later become the School of Engineering at the University of Tokyo.
Upon his return to Japan, Yozo Yamao was made Construction Minister, and enjoyed the support of Hirobumi Ito and Kaoru Inoue. Today, there are many prestigious engineering schools, such as MIT in the United States, but most had only just opened around this time, and engineering was considered a much lesser field of academic study than science. In Japan, however, science and engineering were considered equally important and carried the same weight in the country's university education. This is due in part to the importance Shoin Yoshida placed on engineering in teaching his students at the Shokasonjuku Academy.
ーーHow did you get involved in the project to promote the Sites of Japan's Meiji Industrial Revolution?
In 2006, the Agency for Cultural Affairs introduced a new system whereby local municipalities could submit proposals for World Heritage nominations. Until then, the Agency had been the sole arbiter of the sites that would be nominated for world Heritage inscription. That year, we were visited at city hall by Ms. Koko Kato and Mr. Kimiyasu Shimadzu, who was then president of the Shimadzu Limited. They announced that they were aiming to have Kyushu's industrial heritage sites inscribed on the World Heritage List. "Hagi has some wonderful industrial heritage sites. In fact, Hagi is the birthplace of Japan's industrial revolution. Won't you join our world Heritage project?" As it happened, we had been making preparations to submit a proposal to have Hagi's old castle town nominated as a World Heritage site. "We're sorry," we said. "We are already preparing a proposal for Hagi as a castle town and have no preparations for promoting our industrial heritage." But they responded, "Don't worry. We will make all the preparations." In the end, we decided to submit proposals for both the castle town and our industrial heritage sites.