PEOPLE
What is the secret plan to make the Port of Miike, an operational asset of a World Heritage site?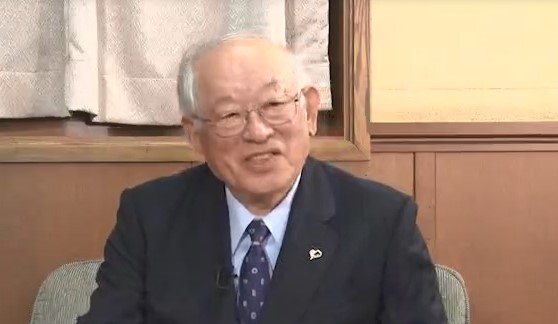 Former Mayor of Omuta City
PROFILE
Born 25 November 1943 (79 years old).
1966 Graduated from the School of Political Science and Economics, Waseda University.
1966 Joined Mitsui Kinzoku Mining Co.
1989 General Manager and Research Officer, Miike Office, Mitsui Kinzoku Mining Co.
1991-2003 Member of Omuta City Council (three terms)
2003-2007 Mayor of Omuta (3 terms)
January 2008- Presides over the "Ariake Isei Juku" (political academy)
Chairman of the Omuta Police Station Council
Past Chairman of the Omuta Central Lions Club  
Author of 'From Fiscal Reconstruction to a City of Civic Collaboration' (2016, Kaitosha), 'Basic Knowledge of Political Science and Public Administration' (2022, private edition), 'Local Government & Elections, Lectures' (2022, private edition), etc.
Kato: I am really happy to see you after a long time. I think the first time I met Mr. Koga was when you were a city councillor, but today I would like to ask you to tell us a little bit about what has happened since then.
Koga: I am pleased to see that you are as active as ever. When I was a city councillor in 1997, the Miike Coal Mine was closed.I was Chairman of the Special Committee on Measures to Deal with the Closure of the Mine, so I have a history of working with the support of the national and prefectural governments to deal with the closure and how to develop the town after the mine closure. I developed a personal attachment to the coal industry and other related companies that have created this town. Since then I have been saying that the Port of Miike and other related facilities ought to be preserved. I have also felt that the Port of Miike and other related facilities should be preserved and utilised in the town's development after the mine's closure. In 1999, I wrote a series of 10 articles on the theme of town development and the industrial heritage of modernisation in the local newspaper, the Daily Omuta, and also made a proposal at a plenary session of the parliament, which received some support.
In 2003, when I took office as Mayor, I also held more than 10 'Talking with the Mayor' meetings for citizens to discuss town development and gave classes at five to six primary and junior high schools every year, where I explained that Omuta's Miike coal mine played a significant role in forming the town and that knowing Omuta's history would be helpful for future town building. We did not think it would become a World Heritage Site at the time, but we have been trying to build momentum. It was also the luck of the hour that I was able to meet Ms. Kato at such a juncture. Under Ms. Kato's leadership, we have worked with experts, politicians, bureaucrats and many supportive activists to realise the World Heritage Site. For me, it is a blessing that I never thought I would have.
Kato: When I first met you, it was shortly after I had published my book entitled "Industrial Heritage." I remember you were wearing a festival happi coat at that time.
Koga: The "Daijayama Summer Festival" that takes place in July, right? At that time, we met at the chamber of commerce and industry, and you said, "Let's preserve our industrial heritage!" But it was still too early to predict the result.
Kato: Yes, and then the movement switched to making Miike a World Heritage Site, but at the very first meeting of the Kyushu Governors' Association, the first time you heard "Let's make it a World Heritage Site!" what did you think of it?
Koga: At the time, I thought the modern industrial heritage had to be preserved for future generations, so of course I was all for it. But to be honest, I did not believe that it would actually become a World Heritage Site.
Kato: There were pros and cons. After that, it took time until we went from the framework of the Kyushu Governors' Association to the framework of the Council, which is a group of eight prefectures and 11 cities. In the process, out of the many component parts, it was decided, "Let's choose Miike!" And then, Michael Pearson went to Omuta for an inspection tour, and things started to heat up and get serious. Around that time, there was talk about how wonderful the Port of Miike was, but just then, the Port of Miike was removed from the list of major ports. At that time, we held a symposium and talked about making the Port of Miike a World Heritage Site within the framework of simply a port, and the audience was in a 'why!'-type of mood.
Koga: The Cultural Hall was packed. On 3 August 2010, you gave a lecture entitled 'Seminar for the Promotion of World Heritage Listing', and we also had a panel discussion. That was the first time I felt Ms. Kato's enthusiasm. I also participated in the discussion as one of the panellists and remembered that many questions were flying about in that hall at that time.
Kato: At the time, the Agency for Cultural Affairs only wanted to do the lock gates and the docks, but I thought that the importance of the Port of Miike was the shape of the Hummingbird itself and that it would be meaningless without doing the whole Port of Miike. When I said that in order to do that, it would have to be done within the framework of the port, not the cultural property, everyone was surprised. Usually, the Agency for Cultural Affairs designates a place as a historic site or an important cultural property and then recommends and registers it.
In such a situation, my opinion received much flak from people. There was also much criticism of the idea of registering the entire eight prefectures and eleven cities. There was also a particular sentiment about whether the government would be okay with spending money on such a proposal. The reaction of many people to this was that they wondered whether they could support such an unprecedented idea; my idea was to create a new framework so that operational assets could be registered as World Heritage sites within a framework other than the Agency for Cultural Affairs through regulatory reform, even though the Agency has jurisdiction over these sites. In such a situation, we fought for the Port of Miike during the regulatory reform, so the Port of Miike is actually the first place that had regulatory reform. It was great that the mayor of Omuta agreed with my idea.