PEOPLE
Power to the People of Japan The Mission of Meiji Japan's Industrial Revolutionary Heritage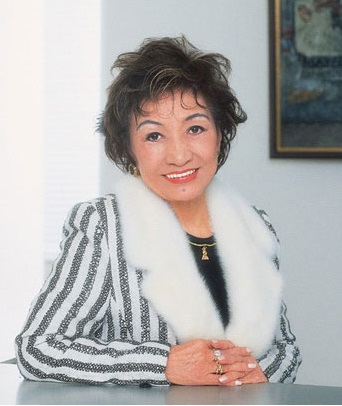 President of Watanabe Production Group and Honorary Chair of Watanabe Productions Co., Ltd.
PROFILE
Misa Watanabe was born in 1928 in the city of Yokohama in Kanagawa Prefecture as the eldest daughter of Masao and Hanako KUNASE, the founders of Manase Productions Inc.. After studying at Japan Women's University, she worked as a manager for the jazz band Six Joes. In 1955, she married the Six Joes bandleader Shin Watanabe and founded Watanabe Productions Co. Ltd.. Named a chevalier in the French Order of Arts and Letters in 2004, she was also awarded a Medal of Honor with Blue Ribbon by the Japanese government in 2012 and the ICMP Ralph Peer II Award in 2018. She is a trustee of Japan's National Congress of Industrial Heritage.
ーーThe Sites of Japan's Meiji Industrial Revolution were registered as UNESCO World Cultural Heritage in July 2015. Two years earlier, the Board of Trustees for the National Congress of Industrial Heritage was convened in September 2013. You have served as a trustee since its inception, but could you tell us a little about the background up to that point?
I was on good terms with Ms. Koko Kato's mother Mutsuko, so I've known Koko for a long time. When did I first meet her? I suppose she might already have been an adult by then. She struck me as bright and energetic, and more than anything clever. I do love a dependable woman. So I became fan of Koko's, with her lucid way of talking, and I remember feeling excited to see what kind of woman she would be.
Much later, at some function or other I was attending with Mutsuko, she mentioned to me that "our Koko is promoting this sort of thing," which turned out to be the story of how Koko was going all out to get the Modern Industrial Heritage Sites in Kyushu and Yamaguchi (later retitled as the "Sites of Japan's Meiji Industrial Revolution") inscribed onto UNESCO World Cultural Heritage List. I thought this sounded like quite a dynamic challenge, but at the same time I suddenly realized it was something wonderful.
Later, Koko invited me to an event she was organizing at a hotel in Tokyo (the Expert Committee convened in 2007 announced the results of their inspection and deliberation at the Tokyo Prince Hotel on October 10, 2009). When I arrived, I was amazed. She had the biggest room completely packed with people. There must have been a thousand people or more. There were business types, politicians, critics, and the media. I was moved by Kōko's gift of enthusiasm and thought I'd like to help out if there was something I could do, so when the topic of becoming a trustee for the National Congress of Industrial Heritage came up, I was happy to accept.
You had a deep understanding and approved of what Ms. Kato was doing?
Oh, of course. But I believed in Koko even before that. Her motivation for what she was doing really struck a chord with me. I knew that her father Mutsuki, whom I had also met, had impressed upon her that "Japan has taken care of you, so you have to at least one thing to pay that back," and I was also convinced that Koko would never forget her father's words, which were like a dying wish.
Koko is an industrial heritage specialist who studied her field in graduate school at Harvard. She possesses extraordinary strength of character and vitality, and has all the bona fides necessary for accomplishing such a grand project. I really wanted to see her succeed. When the World Cultural Heritage listing happened in July 2015, I was overjoyed that she had finally done it. I was very proud, not only as a trustee seeing her achieve the project objective, but also personally, that I had not misjudged her.
ーーMany who heard about the idea of inscribing industrial heritage sites onto UNESCO World Heritage List seem to have wondered whether such a thing could be done. Even afterward, it was a rocky road, with vexing issues piling up with regard to working properties like the Nagasaki Shipyard and Port of Miike, which were included among the component parts, such as how to reconcile companies' business activities with the Law for the Protection of Cultural Properties, and not being able to get the assent of the Agency for Cultural Affairs.
It's always difficult when you try to start something that's never been done before. Just like how the first people to start clearing virgin territory get covered in scars. If that's not your thing, then you will end up doing things that you didn't have to do from scratch. Koko knew from the start that various hurdles lay in wait for her. It's true that she may have sometimes felt disheartened, but I feel that she might have also been amused to where some of those obstacle cropped up. Now that you mention it, I think Koko is a lot like me. That might be why I felt such a desire to support her.
ーーYou mentioned earlier that when upon learning of Ms. Kato's activities, you suddenly realized how wonderful they were. Could you expand on that in a little more detail?
When you've seen something good, something wonderful, that most people fail to notice, how do you tell the world? Will it catch on? When I think about Japan's current affluence would be nothing without the Meiji industrial revolution, I am convinced that the Sites of Japan's Meiji Industrial Revolution are appropriate to be listed as World Heritage. The Japanese are truly a hardworking and inherently energetic people. I know that Japan was a burned-out ruin just after the end of the war, and the power to recover from that was incredible. I think that if we had the solidarity, power, and aspirational spirit of the Japanese in those days, then we would be able to overcome anything. My approval of the activities of the Sites of Japan's Meiji Industrial Revolution project was an expression of my own desire to have Japan regain that mettle.