PEOPLE
Calling on 21st Century Satsuma Students to Build the Future! Shuseikan Serves as a Source of Information about Sightseeing in Kagoshima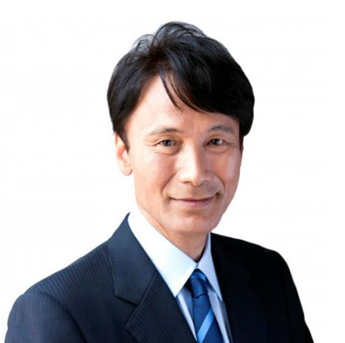 Governor
Kagoshima Prefecture
PROFILE
1958 Born in the city of Ibusuki, Kagoshima Prefecture
1980 Graduated from Waseda University and joined TV Asahi Corporation, becoming a political journalist
2004 Employed as a part-time lecturer at the Okuma School of Public Management in the Faculty of Political Science and Economics at Waseda University
Covered the prime minister's official residence, the Liberal Democratic Party, the Ministry of Foreign Affairs, the Ministry of Defense, and the Ministry of Finance as the chief of the reporters. From around 1990 worked as a political newscaster on the News Station television program, providing commentary on politics and political trends.
During this time, he frequently accompanied key members of the Cabinet and the ruling and opposition parties overseas as a journalist, including accompanying successive Japanese prime ministers from Yasuhiro Nakasone to Junichiro Koizumi to summits among major developed nations.
In July 2016, he was appointed governor of Kagoshima Prefecture.
This year (2018) is the 150th anniversary of Japan's Meiji Restoration[1], and Kagoshima Prefecture is in the throes of a boom in popularity for Segodon, the 57th in a long run of year-long historical drama series aired by Japan's national broadcaster NHK. Shuseikan (Sengan-en and the Shoko Shuseikan Museum area), which is one of the Sites of Japan's Meiji Industrial Revolution, was a shooting location for the drama, and as a result, it is now crowded with sightseers day after day. How can this popularity be used to maintain and preserve World Heritage sites in future and to further boost tourism? Meanwhile, Kagoshima Prefecture has launched an international exchange project for young people aimed at cultivating "21st Century Satsuma students."
The Sites of Japan's Meiji Industrial Revolution are located in eleven cities across eight prefectures. Mr. Satoshi Mitazono is Chairman of the World Heritage Council for these sites, as well as being Governor of Kagoshima Prefecture. We visited him at the prefectural government offices, where he made some time amidst his busy public duties to be interviewed by Ms. Koko Kato, Managing Director of National Congress of Industrial Heritage.
■Terminals for large cruise ships are being improved to deal with 8 million annual visitors to Kagoshima—the highest number ever
Ms. Kato: The current Segodon boom is remarkable, and I hear that the number of visitors to Kagoshima Prefecture is increasing at an incredible pace.
Mr. Mitazono: Yes, last year (2017), the cumulative number of hotel guests in the prefecture was around 8 million, the highest ever. And this year the number's growing even further.
Ms. Kato: That probably includes more visitors from overseas as well, doesn't it?
Mr. Mitazono: That's right; the number of inbound tourists surpassed 700,000, also setting a new record.
Ms. Kato: I understand that Kagoshima Airport is to be extended to meet the demand?
Mr. Mitazono: Additional boarding bridges and turntables are soon to be constructed. This is because the number of visitors to Kagoshima from places such as Hong Kong and Taiwan is continuing to increase. Within Japan, too, there are currently 22 flights a day from Tokyo's Haneda Airport to Kagoshima, and many visitors fly from Kagoshima to Tokyo, or come to Kagoshima from Tokyo, and head off around Kyushu.[2] It takes 1 hour and 20 minutes on the Kyushu bullet train to Fukuoka, and a wide variety of sightseeing routes are available.
Ms. Kato: I hear that not only air travel, but also port usage—specifically the number of cruise ships docking—is increasing at a remarkable pace.
Mr. Mitazono: Yes, the number of cruise ships docking is also at the highest level ever. Last year (2017), ships docked at ports in Kagoshima Prefecture 153 times, including 108 times at Kagoshima Port alone. The number of cruise ship passengers visiting the prefecture as a whole was 216,000, and Kagoshima Port accounted for 201,000 of them. When the biggest ships dock, more than 4,000 tourists disembark all at once.
Mr. Mitazono: So we appealed to the Ministry of Land, Infrastructure, Transport and Tourism for help with further increasing the port's capacity, and as a result the decision was made to build a port terminal exclusively for cruise ships that could accommodate two ships at the same time, including large 220,000 ton-class ships.
Ms. Kato: So, with tourism flourishing in this way, what role do you think the Sites of Japan's Meiji Industrial Revolution are playing?
Mr. Mitazono: As explained previously, Kagoshima Prefecture is home to three of the sites: Shuseikan, the Terayama Charcoal Kiln, and the Sekiyoshi Sluice Gate of Yoshino Leat (all of which are located in the city of Kagoshima). Shuseikan in particular is very well-known among visitors from overseas, and is a key sightseeing destination. In addition to the Shuseikan Reverberatory Furnace, Shuseikan also displays a large number of valuable historical resources, such as artillery shells, spinning machines, and materials dating back to the Bombardment of Kagoshima.[3]
Its use as a shooting location for Segodon has also contributed to its increased popularity. Shuseikan serves to inform many people in Japan and overseas about the role played by Satsuma in Japan's modernization, including the achievements of Lord Nariakira Shimadzu. So, I'd like more and more people to come to Kagoshima, and actually see, appreciate, and understand Shuseikan and the other Sites of Japan's Meiji Industrial Revolution.
---
[1] The political revolution in 1868 that brought down the shogunate (military government), prompting Japan's subsequent modernization and Westernization.
[2] The southernmost of Japan's four main islands, and the island on which Kagoshima is located.
[3] Also known as the Anglo-Satsuma War, this was a battle between Britain and Kagoshima's Satsuma domain fought in 1863.