PEOPLE
18 Years History of a Tourist Guide Business and an Outpouring of "Love for Misumi West Port." ~"Registration for World Heritage is Not Simply a Goal, but a New Starting Point."~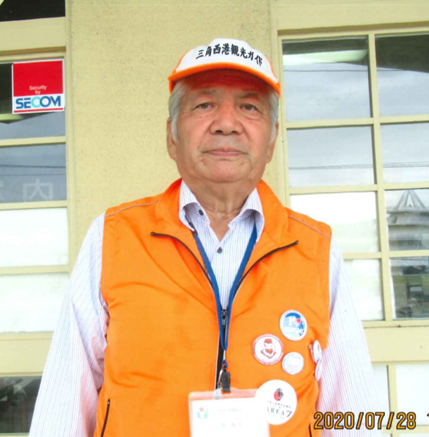 Chairman of the Tourist Guide Association of Misumi West Port
PROFILE
February 1949: Born in a town called Misumi-machi in Kumamoto Prefecture (currently known as Misumi-cho, Uki City)
March 1969: Graduated from Kumamoto Prefectural Fruit Tree Educational Institute (a junior college certificate)
October 1974: Completed the correspondence course approved by the Ministry of Education in agriculture workshop of the Department of Gardening in Tokyo University of Agriculture.
1986: Established "the Association to Ponder About Misumi" with the aim of making the most use of the Misumi West Port, and has taken office as chairman.
1999: Established "the Society for Considering the Culture and Literature of Misumi West Port" with the aim to designate the port as a national important cultural property, and has taken office as chairman of this association as well.
2002: Joined the Association of Misumi West Port Sightseeing Volunteer Guides Association (now known as the Misumi West Port Sightseeing Volunteer Guide Association), which was organized by the Misumi Tourist Association, and has been taken office as chairman since then.
He is the third generation of a farming household whose main business has always been in producing mandarin oranges, decopon (tangerine), and figs. His life motto is "If you do everything right, it will be a heavenly deed"
Mr. Manpo Saito is known as the leader of a volunteer tourist guides of Misumi West Port (Misumi-machi, Uki City, Kumamoto Prefecture), one of the constituent properties of the "Industrial Revolutionary Heritage of Meiji Japan." He is not only a well-known professional guide typically referred to as a "living dictionary of Misumi West Port," but also a local promoter who has been working hard for more than 30 years to designate the port as a national important cultural asset and UNESCO World Heritage Site. In addition, he has been actively involved in all community activities, such as in local government, education institutions, fire department, and the JA Group (Japan Agricultural Cooperatives). What motivates Mr. Saito—who loves the town of Misumi-machi and Misumi West Port, and who continues to devote all his energy in engaging in community activities on a daily basis—is his passionate wish to "make the most of this precious World Heritage Site for the sake of community to pass it on to the next generation.

■After Participating in the Symposium, he Established "the Association to Ponder About Misumi".
--When did Mr. Saito start working as a volunteer guide at Misumi West Port?
Saito: It all started when I joined "the Association of Tourist Volunteer Guide," which was set up by the Misumi Tourism Association before it was merged with Uki City in 2002. There were eight members at the beginning, but I am the sole one who continues to work there today.
--So that means that you must have been working as a guide long before Misumi West Port was registered as a UNESCO World Heritage Site of the Meiji Japanese Industrial Revolution, right? 
Saito: That is right. At first, we began as volunteers, but there was a period when we had to pay for the service, so we made some changes, such as removing the word "volunteer" from the name of the association. Then in 2014, one year prior to the day it was registered as a world heritage site, we officially reestablished it as "the Misumi West Port Tourist Guide Association." At that time, we recruited new volunteer guides, held two courses, and started with 18 people who passed the test. Although there are about 12 of us, I have been active as the chairman of the group in the meantime.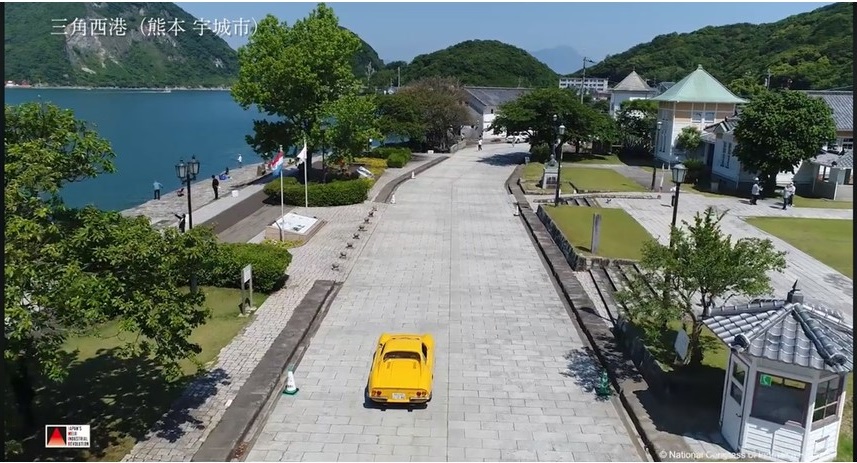 --Could you introduce us to some of the tourist routes you would like to recommend?
Saito: Of the three major masonry ports built in the mid-Meiji era, only Misumi West Port is still remaining today. But first of all, I would really like you to see this 765-meter-long masonry wharf. The three drainage channels that drained the water from the mountain are still maintained intact. Moreover, the old buildings in the area also remind us of the Meiji period. For example, the old buildings in the area still stand today, such as the Ryujo-Kan Hall and the old Misumi shipping warehouse. There are some that remained standing on top of the hill in the town block as well, such as the old Uto District Public Office and Old Misumi Summary Court. The attraction of Misumi is not only the West Port itself, but also includes the buildings that are still built with the most state-of-the-art technology of the time, which I think tourists will enjoy.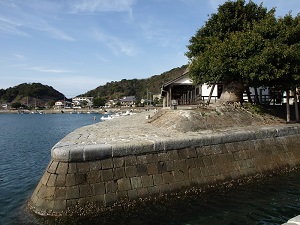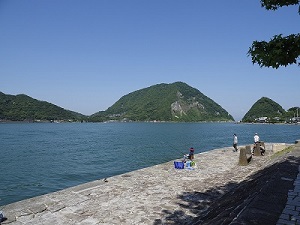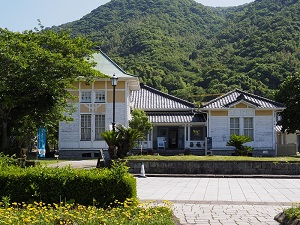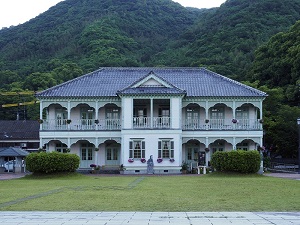 --Misumi West Port must be a source of pride for a resident like you, Mr. Saito.
Saito: Well, to tell you the truth, I did not know much about it before, and I was also not interested in it at all. The moment I got involved with Misumi West Port was when I participated in "the Misumi West Port Symposium," which was held in 1983. This symposium was organized by the Professor Kiyoharu Horiuchi of Kumamoto University and other miscellaneous researchers, and it turned out to be a great success, with more than 500 people from all over Japan who were fans of Misumi West Port attending the symposium. It was from that moment that I became aware of the historical value of West Port, and I began to study it, because I realized that there was something so wonderful about Misumi. Then in 1986, I began "the Association to Ponder about Misumi" with ten other members.

--What kind of activities did you engage in exactly?
Saito: There are not enough places to have fun in Misumi. Therefore, we played around with the facilities at Misumi West Port, or rather, we held various fun events to attract more people. For example, in 1990 we held a "Gathering for Tea Ceremony and Koto (Japanese harp)" at the Hosokawa villa, which is an old building made in a style of samurai residence, and we invited about 50 companies to join us in holding an "Evening of World Food and Music," where we provided 6,000 yen worth of food for 3,000 yen of membership fees. And that is how we did all sorts of various events at our own expense.