PEOPLE
Taking Pride in Japan's Latest World Heritage Sites~A Journalist's Perspective~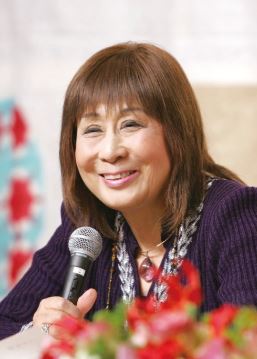 Journalist, founder of the Shimomura Mitsuko Ikikata Juku School
PROFILE
Mitsuko Shimomura has an MA in Economics from New York University Graduate School of Arts and Science and a BA in Economics from Keio University in Tokyo.
She joined the Asahi Shimbun, one of Japan's leading national newspapers, in 1965 and has written articles for the Shukan Asahi, the newspaper's weekly journal, served as the Asahi Shimbun's New York correspondent and on its editorial board, and was also chief editor of the Asahi Journal, another of the newspaper's major publications. During her time at the Asahi Shimbun, she reported from such places as the Middle East, the United States, Europe, China, and the former Soviet Union. In 1982, she became the first woman to be awarded the Vaughn-Uyeda Memorial International Journalistic Prize. In 1987, she was awarded the JST (Japan Society of Translators) prize for excellence in translation. That same year, she was invited to study at Harvard for one year as a Nieman Fellow.
She has been working as a freelance journalist since 1994. At one point she took over her parents' business concerns to serve as chair of the Tokyo Kenbikyo-In Foundation and later established the Genki Plaza, a medical foundation promoting mental and physical health care which she now chairs. She has held numerous other prestigious positions including Vice Chair of the Keizai Doyukai (Japan Association of Corporate Executives), President of the Fukushima Gender Equality Center, and an outside board member of the Renaissance Corporation.
In 2002, she was presented with the Athena Award by the Partnership for Women's Health at Columbia University for her contributions to women's health and gender-specific medicine.
Immediately after the 2011 Great East Japan Earthquake and nuclear plant accident, she established the Shimomura Mitsuko Ikikata Juku School and the Seiwajyuku, a private management school headed by Kazuo Inamori, founder and chairman emeritus of Kyocera Corporation, with the objective of "rejuvenating the Japanese heart and mind." Shimomura has also regularly sponsored a Fukushima memorial event held every year in the city of Iwaki.
Currently, she holds numerous executive positions, including: head of the Shimomura Mitsuko Ikikata Juku School, representative director and president of the Human Plaza Corporation, JAL Foundation councilor, Shiseido Social Welfare Foundation councilor, medical association Hanatsubaki-kai chair, Team Smile board member, East Nippon Expressway Company compliance committee member, Vaughn-Uyeda Memorial International Journalistic Prize selection committee member, Butaigeijutsu Center (performing arts center) trustee, Characters Culture Promotion Organization trustee, and Seiwajyuku board member.
Her writings include: Made in Japan - Akio Morita and Sony (PHP), Inochi to wa Nanika, Ikiru to wa Nanika (What Is Life, What Does It Mean to Live; KK Longsellers), Zaikaijin Toppu Intabyu, Gensoku Keizai wo Ikiru (Japan's Outstanding Business Leaders; Asahi Shimbun), Sekai no Dai-keieishatachi (The World's Outstanding Business Leaders; Asahi Shimbun), Amerika no Otokotachi wa Ima (The Men of America Now; Asahi Shimbun), Shimomura Mitsuko no Dai-kokishin (Shimomura Mitsuko's Great Curiosity; Asahi Shimbun), and Harvard Memories (PHP). Her numerous translations include, among others, Sugu Wasureru Otoko, Keshite Wasurenai Onna (Why Men Never Remember,Women Never Forget by Marianne J. Legato), published by Asahi Shimbun Publications.
Ms. Mitsuko Shimomura was a passionate advocate for the World Heritage registration of the Sites of Japan's Meiji Industrial Revolution. Says Ms. Koko Kato, Managing Director of the National Congress of Industrial Heritage, "She was a great benefactor to us, guiding us at every step of the way on the long road to getting these places inscribed as World Heritage sites, encouraging us and backing us up." Ms. Koko Kato also joined an interview of Ms. Mitsuko Shimomura, asking her about her involvement in the process of securing World Heritage designation of the Sites of Japan's Meiji Industrial Revolution.


■ The three reasons for the World Heritage inscription


Ms. Koko Kato says you played a major role in getting the application process going and guiding everyone along the way. What, specifically, did you do?
Ms. Shimomura: I didn't do anything special (laughter).
Ms. Kato: Now, now. In 2012, the Cabinet Secretariat formed a committee of experts to deliberate the selection of industrial heritage sites, including those still in operation, to be recommended to UNESCO as Sites of Japan's Meiji Industrial Revolution. Ms. Shimomura made a comment at a committee meeting held in 2013 that got the process going.
Ms. Shimomura: Oh, yes, I remember. It was August 27, 2013, the day of the committee's last meeting. It was an important meeting because we were going to decide the recommendations the Japanese government would be making to UNESCO. But the meeting dragged on and we hadn't decided anything even though it was getting close to the time to end. I hadn't spoken much at our previous meetings. There were so many experts in all the different fields we were covering. I had learned a lot, but though I did ask some questions, I didn't feel qualified to give an opinion. Yet here we were going around in circles and not getting anywhere. I had another appointment and needed to leave soon. To tell the truth, I was getting irritated. So I spoke up. That's what you are referring to, right?
Ms. Kato: Right. The atmosphere in the room changed completely with your words (laughs). The committee had two proposals on the table and couldn't decide on which should be recommended first. One was the Sites of Japan's Meiji Industrial Revolution, which was strongly supported by the Cabinet Secretariat, and the other was the Churches and Christian Sites in Nagasaki (later renamed "Hidden Christian Sites in Nagasaki and Amakusa") proposed by the Council for Cultural Affairs. It was imperative, therefore, that the committee of experts unanimously agree on the Sites of Japan's Meiji Industrial Revolution. Unfortunately, not everyone on the committee was in agreement, and concerns were raised about pushing a proposal that was different from that being made by the Coucil for Cultural Affiairs. There were arguments and objections on both sides.
Ms. Shimomura: Yes, yes. And this is what I said. "We only have five minutes until this meeting must end. We were supposed to come to a decision today, and I have been waiting for us to take a vote. But instead of a presentation of the big picture, discussion is focused on highly specialized concerns and the repetition of debates we've already had before. I have listened to the experts and learned a lot, and personally, my mind is made up. After participating in this committee, it would be irresponsible of me to go away without saying anything, so I would like to say something now.
"I am not an expert, but I speak as a journalist and as a Japanese. I think this is not the time for debating the finer technical points. As Japanese, do we take pride in our Meiji Industrial Revolution and do we want to tell the world about it? That is ultimately what we need to decide." And then I said, "I am in favor of recommending the Sites of Japan's Meiji Industrial Revolution."
My reasons were, one, our country succeeded in modernizing on its own in the very short period from the end of the shogunate through the Meiji period. We provided an encouraging example back then for the developing countries of the world, particularly Asia, and still do today. Two, for the Japanese people, the achievements of the Meiji period are what made it possible for our country to recover later from the devastation of war to become the world's second largest economy. The roots of modern Japan go back to the era of the Meiji Industrial Revolution. The Meiji Industrial Revolution and the postwar economic recovery are closely linked.
I ended by making one more final point. "This proposed World Heritage has a narrative and though it is counted as one item, it will actually comprise 23 components. This will have a tremendous impact on revitalizing each of the regions involved. There couldn't be a better outcome." In the end, my comment turned into quite a speech (laughs).
I had been so quiet throughout, but these were my honest thoughts on the matter, and I had been itching to express them for quite a while. It was our last meeting and I didn't want to go away without saying what had to be said!
It appears your comments finally brought closure to the meeting.
Ms. Kato: The vote to recommend the Sites of Japan's Meiji Industrial Revolution was unanimous.
Ms. Shimomura: As I already noted, up to that point I hadn't said a word. After all, I was no expert on World Heritage matters; I was a complete outsider. In fact, I really didn't understand why I had been asked to serve on the committee in the first place (laughs). Still, I tried hard to learn, and my experience as a journalist and my own personal background led me to the conclusion that the Sites of Japan's Meiji Industrial Revolution were worthy of being named a World Heritage.
So, that was my thought as we came to our last meeting, but the discussions just wouldn't come to an end. Instead, people were repeating points that had already been covered and turning over conclusions that had already been reached. Those against the proposal said again that properties related to modernization did not qualify as World Heritage sites. Others questioned, repeatedly, why currently operating sites should be included. The discussion just kept going around in circles all the while our time limit loomed ahead of us. It was evening, I had another appointment to go to. That's when I finally got up the courage to announce, "I have to leave to attend to other matters and so would like to say something here" (laughs).
I finally left, but not until after Mr. Hieda of Fuji TV (Executive Managing Advisor, Fuji Television Network, Inc., Director of National Congress of Industrial Heritage) expressed his agreement with me. It was a great relief when I later heard that the vote had been unanimous (laughs).
Ms. Kato: Well, there was no precedent to follow. We were trying to make a selection in a whole new category, but there were members of the committee who just couldn't shake off the preconception that only cultural properties qualified as World Heritage, and they kept raising objections. The fact that we were finally able to reach unanimous agreement was due to Ms. Shimomura's bringing clarity to a muddled situation and I was so grateful for that.