PEOPLE
From Kamaishi to Yawata: The Proud Heritage of Japan's Modern Iron Industry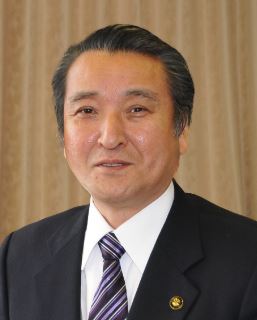 PROFILE
Born in1953 in Kamaishi City. After attending the Iwate Prefectural Kamaishi Minami Senior High School (now Kamaishi Senior High School), graduated from Senshu University Faculty of Law in March 1976. From April 1988, assumed the post of director of the Noda Gakuen Koto Kindergarten, and from April 2003 to October 2007 served as a member of the Iwate Prefectural Assembly. From November 2005 to October 2007 was president of Noda Gakuen. Elected mayor of Kamaishi City on November 18, 2007.
Reforming Government Regulations
 In 2010, Mr. Tatsuo Hirano, a member in the House of Cuncilors who comes from Kitakami City, Iwate Prefecture, was a Senior Vice Minister in the Cabinet Office. At that time, the Consortium for the World Heritage Inscription of Modern Industrial Heritage Sites in Kyushu and Yamaguchi was planning to go the conventional route and apply for World Heritage inscription through the Agency for Cultural Affairs. The Agency was reluctant to take it up, however, because there was no precedent for registering operating facilities as World Heritage sites. That's when Ms. Koko Kato of the National Congress of Industrial Heritage suggested that a new system needed to be created. Mr. Hirano was the first government minister to pick up on her idea, and as it happened, he was in charge of reforming government regulations. We met with Mr. Hirano and consulted Ms. Kato, and that is how we got involved in the project to apply for World Heritage standing. Repeated discussions with Ms. Kato helped to deepen Mr. Hirano's understanding of the problem, and we began to have a glimmer of hope that there might be a way to World Heritage inscription without going through the Agency for Cultural Affairs.
 Iwate Prefecture was just on the verge of getting Hiraizumi nominated for the World Heritage List and was working in tandem on the project with the Agency for Cultural Affairs. It wasn't advisable that Kamaishi should take an adversarial stance against the Agency at such a time, so we tried hard to stay on good terms while working in the background to get the regulations changed.
 Since then the Liberal Democratic Party has taken over the reins, but we were able to stay on track, get a framework for our project within the Cabinet Office, and got the government to make a formal nomination to UNESCO. The fact that we are an area that was stricken by the 2011 great earthquake had a lot to do with it. The Kamaishi ironworks are an important component of the Sites of Japan's Meiji Industrial Revolution. Failure to get Kamaishi included would be a national tragedy. It was good to know that the Chief Cabinet Secretary understood this.