PEOPLE
Taking Pride in Japan's Latest World Heritage Sites~A Journalist's Perspective~
Journalist, founder of the Shimomura Mitsuko Ikikata Juku School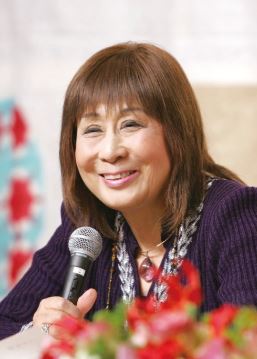 ■ An Encouraging Phone Call at the Bonn Conference
Ms. Kato tells us that you also played a strong supporting role during the UNESCO conference held in Bonn, Germany, in 2015.
Ms. Kato: That was when South Korea waged a negative campaign to block the World Heritage registration by bringing up the totally unrelated issue of the forced labor during the war years.
Ms. Shimomura: Ms. Kato was in Bonn then and I telephoned her from Japan. I had heard that Korea was vehemently opposed to Japan's recommendation and was conducting an anti-Japan campaign at the conference. This worried me and I phoned her without any idea of the conference schedule or where she might be at the moment. It just happened that she was between meetings and was able to answer the phone. She told me what was going on and I did my best to encourage her. That was about all I could do back then.
(Turning to Ms. Kato) You cried on the phone, remember?
Ms. Kato: It was a real struggle and I was so frustrated. From six months before the conference, I had traveled to each of the 17 countries on the UNESCO committee to explain how the recommended sites qualified as World Heritage sites and to point out how unfair were the accusations being made. This was the culmination of 16 years of work and ICOMOS had already declared the sites as worthy of World Heritage designation. Normally, an ICOMOS recommendation would not be overturned and I wanted the countries on the committee to vote against any such effort. Introducing political propaganda into the World Heritage deliberations goes against everything UNESCO stands for. And yet the Japanese government did not fight back, even though we were in the right. It was so disappointing.
Ms. Shimomura: Korea was hit by tragedy after tragedy. That is historical fact. It hardly needs to be said that we must be aware and understand this. But it does not justify introducing anti-Japanese sentiment into a purely academic discussion on the World Heritage qualifications of the Sites of Japan's Meiji Industrial Revolution.
Ms. Kato: There was no logical debate. They could not stand the idea that Japan would be congratulated by the other member countries if and when the Sites were approved for World Heritage designation. That was their only reason for objecting.
That experience has led me to interview the laborers over 60 peersons who actually lived and worked in the coals mines of Gunkan-jima. My objective is to create a video record—an invaluable oral record--of the real history of the island and the people who lived and worked there, presented in their own voices.
Ms. Shimomura: That is really important. Those people are getting old and there is not much time left to gather their testimonies. I urge you to continue the project.
We are coming to the end here. One last request: Could you speak about your hopes for the conservation of the Sties of Japan's Meiji Industrial Revolution, and the activities of the National Congress of Industrial Heritage which is managed by Ms. Kato and others.
Ms. Shimomura: I am aware that the NCIH is actively engaged in promoting the sites, such as by creating an app to guide people. I hope they will vigorously disseminate information on the Sites, both at home and abroad. In the overseas dissemination of information, I think it is especially important to highlight, as I pointed out earlier, that these sites represent an industrial revolution taking place in Asia and played a historical role in opening the way for the developing countries in the region.
Domestically, I think the focus should be on providing a creative and fun framework for not only adults but also children and those of the younger generations to learn about the Sites of Japan's Meiji Industrial Revolution. As you may know, a lot of Japanese people are oblivious to the historical value of the sites (laughs). When I say "fun" I am not expecting the Sites to be turned into entertaining theme parks. They are not places for leisure activities. But it would be good to see them included in school trips, for example, and used as sites for adult study tours. We need to pass on the legacy of our predecessors.
Thank you.
(Interviewers: Koko Kato & Takeo Takashima, Writer: Takeo Takashima)