PEOPLE
Everything is for the Economic Development of Nagasaki--Expanding Beyond the Shipping Business to Pass on Nagasaki's Culture and Industrial Heritage
Chairman: Mr. Hidenori Date
President: Mr. Masahiro Date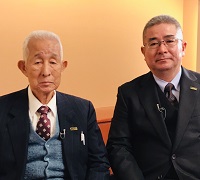 ーーLastly, tell us about your next steps regarding the Sites of Japan's Meiji Industrial Revolution.
Mr. Masahiro Date: We want to continue collaborating closely with the relevant authorities in Nagasaki City to spread awareness of the World Heritage Sites of Japan's Meiji Industrial Revolution around the globe and work to provide services that visitors will enjoy.
Even since the places became World Heritage sites, people have been coming to Nagasaki from around Japan and the world, and the number of people coming to take World Cultural Heritage tourism cruises has risen sharply. "Heritage tourism" means to travel to have encounters with heritage and traditions, and their history, and experience the accomplishments of people of the past. However, at first we were not fully prepared for inbound visitors. We had English-speaking staff who served as guides for international visitors, but now we have professional English and Chinese interpreters as guides. We plan to further improve our foreign-language guide service in the future.
The Gunkanjima Sightseeing Boat Council (hereinafter "Council") meets every month. It is made up of Takashima Traffic Advisory, Universal Workers, Seaman Shokai, Baba Hironori, and our company. People from the Nagasaki City Government Tourism Policy Division also attend. Together we brainstorm on ideas, work to improve services, and if there is a problem we work together to resolve it.
One issue we have is raising awareness of the value and appeal of Gunkanjima among Nagasaki residents. Another is that we want to increase understanding of the need to promote the conservation of Gunkanjima. Last year marked 10 years since the ban on landing on Gunkanjima was lifted, so the Council planned a free tour of Hashima offered only to Nagasaki residents. Despite the fact that the tour facilities on Hashima are closed due to damage from the typhoon last September, so many residents applied that we had to hold a lottery, and at the end of last year each company started offering offshore cruises of Gunkanjima and other tours.
I also think friendly competition between all five companies is important. For example, our company offers a cruise around the Nagasaki Battery Sites—National Historic Sites and part of the Sites of Japan's Meiji Industrial Revolution—in the reconstructed Kanko Maru, but each company has its own unique features. My hope is that people will go on a cruise not once but two or three times—for example, they'll take one cruise and try a different one next time—and visit Kyushu and Nagasaki again and again. Creating a system to offer appealing sightseeing services in order to continue for many years to come is an important issue for us.
(Interviewed and written by Akane Maruyama)
(Photo) The reconstructed Kanko Maru, Japan's first wooden steamship, given to the Tokugawa shogun by the Kingdom of the Netherlands in 1858. Katsu Kaishu and Sakamoto Ryoma, important figures in Japanese history, are known to have ridden the ship.