PEOPLE
Kamaishi's "Miracles" and Overcoming Disaster: The Huge Opportunity Provided by World Heritage Site Inscription
Proprietor, Houraikan Inn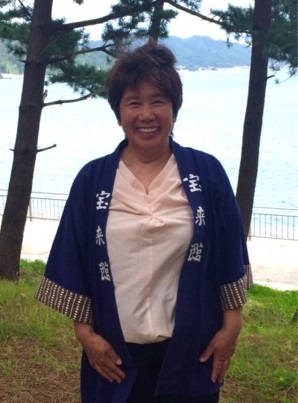 Reevaluating My Hometown to Promote Interaction between Urban and Rural Areas
I was in high school when I first heard that the ironworks was likely to halt its blast furnaces and start streamlining operations. When I asked my father what would happen, he said that if Japan's iron mills disappeared the country would go to ruin, so we just had to go along with what was decided at the ironworks. Nevertheless, in 1989 the blast furnace at Nippon Steel's Kamaishi Works was extinguished, and the city of Kamaishi went into decline. In the same year, my father passed away and I, the youngest of three sisters, took over Houraikan. It was the start of a new imperial era for Japan, but was also the year in which the fire at the ironworks had gone out. My sisters said we should close the inn, but I told them I wanted to carry on. I probably felt that way not only because it was somewhere special to me personally, but also because I felt a kind of duty to preserve the inn as a place where people could connect with each other. Maybe it wasn't the building I took over from our father; it was his sense of duty.
In 1995 we rebuilt Houraikan in the form of a rectangular, four-story, ferro-concrete building. We had learned from the Hokkaido earthquake in July 1993 and the Kobe earthquake in January 1995 that what matters most about an inn is its ability to save lives, so we aimed to construct a building that would be tsunami-resistant. However, when I looked at the newly rebuilt Houraikan, I thought perhaps I had done the wrong thing. It had originally been a simple, two-story inn that was in keeping with its surroundings, but I felt that in modernizing it we had ended up departing from the ethos of an inn that reflects its local area.
I was just thinking that we needed to breathe some life into this rectangular building, and that we wouldn't have a functioning inn unless we could create an environment that people wanted to come to, when I came across Japan's national Green Tourism scheme. I was impressed by its concept of reevaluating one's hometown to promote interaction between urban and rural areas. So in 1997 we turned Houraikan into an inn that offers hands-on agriculture and fishing experiences, and the following year I set up the A&F (agriculture and fishery) Green Tourism Committee.
When reassessing what was good about my hometown, the first idea that came to me was to spread the word about Kamaishi's fish. Then I realized that the Sanriku region also has mountains, and that led us to designate the area from the Hashino Iron Mining and Smelting Site, where the remains of the blasting furnace are located, to the Otsuchi Bay basin as a tourism destination known as "Donguri Umineko Mura." We started promoting this area, publicizing the fact that Kamaishi offers fishing and agricultural experiences.
The Inspiration to Take a Bird's-Eye View of Japan and Its History
Having moved on from the iron industry, there was a period when we were using trial and error to work out how to forge a new way forward as a tourism destination. But I always believed that we couldn't separate Kamaishi from its iron-based history. This conviction owed a lot to a memory from when I was very young. It was in 1957 that the Hashino Iron Mining and Smelting Site was designated as a national historical site. As a child still in the early years of elementary school, it didn't mean much to me when I was told this place had been at the leading edge of modern iron manufacturing in Japan. But then the current Emperor Emeritus, who was Crown Prince at the time, visited the site, and the joy amongst the grown-ups around me was immense. I remember being amazed that the road had been paved, and realizing that a visit by the Crown Prince was something wonderful. At the same time, the Hashino site's status as the pride of my hometown was indelibly etched in my mind.

Nonetheless, for a long time I couldn't work out how to draw attention to the site. In 2007, the approach of using my network to bring people to Kamaishi appeared to be starting to take effect. It was then that Kimimasa Yamaguchi from the city of Miyako (who I think later served as deputy mayor) introduced me to Koko Kato, who had come to Kamaishi for an inspection on behalf of the International Council on Monuments and Sites (ICOMOS). The schools in the Hashino district, where the Hashino Iron Mining and Smelting Site is located, and also in the Aonoki district, were all delivering education that focused on preserving the local community's roots, for which they had received an award from Japan's Minister for Home Affairs. Koko's visit just happened to fall on a day when the pupils were cleaning the schools and she said she was touched to see the children working on the cleaning, which left an impression on me.
When I heard about the concept of World Heritage site registration, I was surprised at the broad overview commanded by Koko, who was looking at the whole of Japan. Koko persuaded those of us who knew only about Kamaishi and had seen nothing beyond our own hometown that taking a bird's-eye view of Japan as a country and its history would make it possible to convey the Hashino Iron Mining and Smelting Site's great achievements more widely. So this was what launched the process by which Hashino Iron Mining and Smelting Site was added as one of the Sites of Japan's Meiji Industrial Revolution in 2009, and Kamaishi joined the effort to target World Heritage status.