PEOPLE
Gunkanjima Is a Warning Message for the Future of Earth and Humanity ~The Thoughts and Pleas of a Guide and Former Resident~
President of the NPO, Way to World Heritage Gunkanjima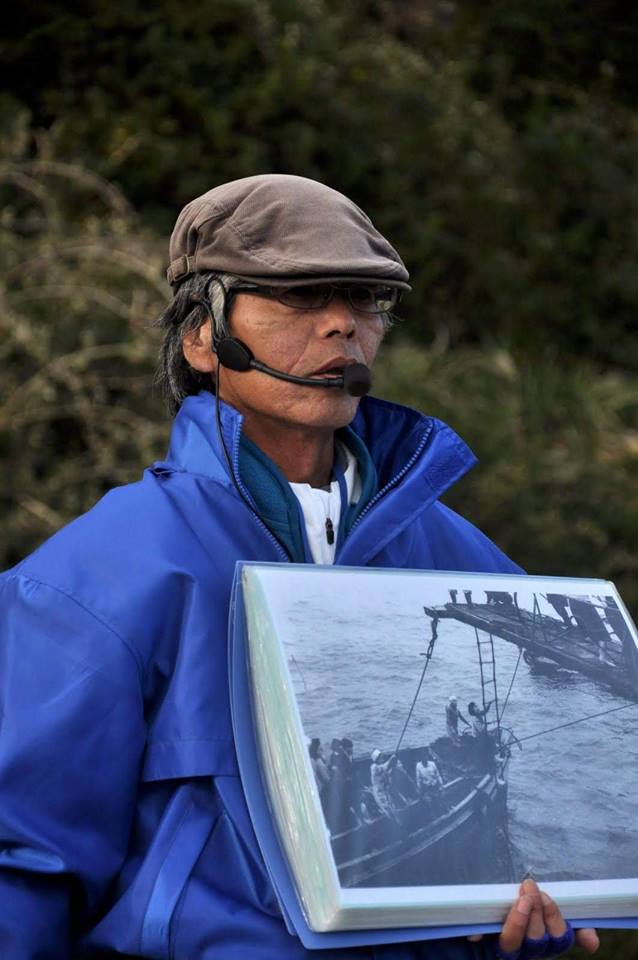 ■"Please take care of my Goldfish and a Little Bird for me"—A Children's Message Left in the Room of an Apartment
――I heard that there was a bit of an incident after that.
Mr. Sakamoto: Around two years after the first symposium, another symposium was held in Takashima (currently part of Nagasaki City). We got into a heated argument with the then-mayor of Takashima, who wasn't interested in making the island a World Heritage site. He planned to turn it into an industrial waste disposal site, so making Gunkanjima into a World Heritage Site and promoting tourism on the island was the farthest thing from his mind. Ms. Kato led the battle [laughs]. I can laugh about it now, but at the time the mood was so tense we were almost at the breaking point.
A lot of things happened after that too. In Nagasaki there was heated discussions about which to nominate first: "Sites of Japan's Meiji Industrial Revolution" or "Hidden Christian Sites in the Nagasaki Region." Those of us who wanted to nominate "Sites of Japan's Meiji Industrial Revolution" were in the minority by far, and it was really hard for me because as a resident of Nagasaki Prefecture I felt torn between the two.
――And then during UNESCO's review, there was some South Korean propaganda strongly opposing Gunkanjima.
Mr. Sakamoto: That was Ms. Kato's biggest problem ever since we got it included on Japan's Tentative List. She often asked me, "But what was it really like?" about the conscripted worker problem. I had many opportunities to hear stories from the elders of the island and I firmly believed that what they were claiming didn't happen, so I did my utmost to help by conveying information I found researching various documents and so on. Now Ms. Kato is gathering valuable testimony from the older people who lived on the island. I think we all have to keep doing things like that to convey the truth.
――How do the current tours of Gunkanjimawork? Does your NPO operate the tours?
Mr. Sakamoto: Four Nagasaki-based shipping companies operate daily sightseeing boat services. One boat holds 90 people and the others hold 200. Currently around 1,000 people can come ashore to Gunkanjima per day. The shipping companies arrange guides to show tourists around the island, and I continue to work as a guide to convey the island's history and what life was like there.
――How often do you go to the island?
Mr. Sakamoto: Now I go about 10 days a month, mostly on weekends. Other tour guides call me "Weeper Maker Sakamoto" because anyone who hears my stories ends up in tears [laughs].
――What kind of stories do you tell?
Mr. Sakamoto: Most tourists who visit Gunkanjima only know its name and intimidating scenery. They don't even know that it had a coal mine or that people lived there. So first I tell them about the scene on the dolphin pier on our last day that I mentioned earlier. Then I take them to the stairs of the coal pit that descends 600 meters underground and tell them, "If something happened down there, you wouldn't be able to get back out by yourself. And there actually were people who weren't able to come back. The people mining coal on the island were fully aware of this and contributed to the modernization of Japan. What you are looking at may just be rubble, but that rubble is filled with our thoughts and feelings."
Inside one of the apartments there is still something a child wrote on a sliding door. It says, "They don't need much food, so please take care of my goldfish and a little bird for me." And there is a picture. This symbolizes the flood of emotions the residents had when they left the island. Hashima was once said to be the "future of Japan." And now it is like this. Although what happened here was the direct result of changes in the government's energy policy, the scenery is not unique to Hashima. Maybe that's what it was like at Fukushima where the nuclear accident occurred. I think you can hear from the island "a warning from the future." That's the kind of things I talk about.
We must constantly think about the problems of the environment, resources, and peace. And we must not abandon towns in Japan where we live now to ruin like this. These problems are not exclusive to Japan, but should be shared by the entire world—we all need to think about them for the future. That is what Gunkanjima can teach us.
It really gives you a lot to think about. It makes me realize again that we have to continue thinking about these issues. Thank you for telling us about your valuable experiences today.
(Interviewed and written by Takeo Takashima)