PEOPLE
Gunkanjima Is a Warning Message for the Future of Earth and Humanity ~The Thoughts and Pleas of a Guide and Former Resident~
President of the NPO, Way to World Heritage Gunkanjima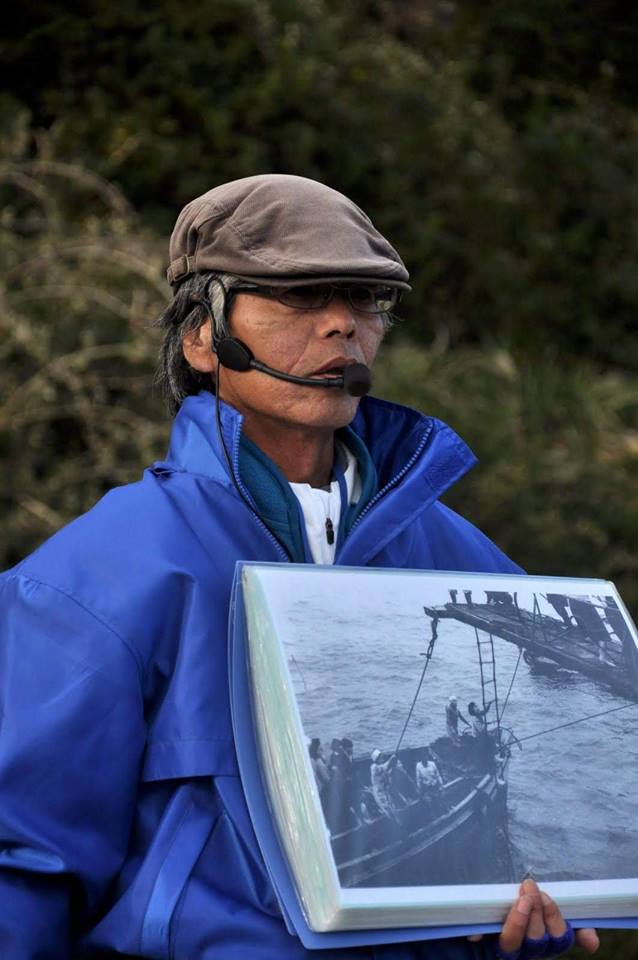 ■Hashima from the Inside and Gunkanjima from the Outside
――Seeing your home remained the same as 25 years ago must have been like traveling back in time! What a moving story. And that's when your current activities began, right?
Mr. Sakamoto: Right. I was a computer technician, so I immediately began doing searches online for "Hashima" and "Gunkanjima." This was the time when the internet was just starting to become widespread. And actually a lot came up. Through my research I got to know a researcher who was studying Gunkanjima at a university in Nagasaki and I offered to show him around the island.
When we went ashore, the researcher said, "I want to go to Building No. 70." I didn't know what he was talking about, but it turned out that was our school. Then he said, "I want to go to Building No. 30. It was the first steel-frame apartment building in Japan." [laughs] I was really surprised. I didn't even know the buildings had numbers. To me it wasn't "Building No. 70," it was just "School."
That was the first time I realized the value of Gunkanjima. I knew Hashima from the inside, but nothing about Gunkanjima as seen from the outside. This realization led me to start my current activities.
――What specifically did you start doing?
Mr. Sakamoto: Well, after that I launched something called "Gunkan Team." I got about 20 Gunkanjima enthusiasts together, mostly people in their 30s, and we went ashore, camped in tents for a night, and I showed them around the island and talked about my memories of it. I did that for about two years, about four or five times a year. A total of about 200 people participated.
At the camp, instead just talking about my memories of Gunkanjima, I asked the participants why they were interested in the island and we had discussions from a variety of perspectives. One thing I realized while doing this was that the participants had a kind of homesickness. Many of them grew up in danchi apartment complexes (large public housing complexes built after WWII) and said it reminds them of when they were children. The scenery of the island overlapped with the scenery of the town they lived in. That's why they were drawn to this abandoned island, they would say. And so I started to feel strongly that I had to do something to preserve the remains of the buildings and traces of what life was like on the island.
――And that's when you established the NPO, Way to World Heritage Gunkanjima, right?
Mr. Sakamoto: I wanted to preserve it, but I was just an office worker, so I didn't know how. Just then, it was 2001, there was this rumor spreading that Hashima was going to be turned into an industrial waste disposal site. Actually, there was talk of that from the time when the mine was closed, but that strengthened my resolve. I had to save it, otherwise Hashima's valuable history would be lost.
――Around the same time, efforts led by local people involved across Kyushu to make Sites of Japan's Meiji Industrial Revolution a UNESCO World Heritage Site got into full swing. Separate at first, this movement and Sakamoto's resolve melded into one.
Mr. Sakamoto: I was 48, so I said I wanted to see my dream come true by 60, and quit my job and established the Way to World Heritage Gunkanjima. I started teaching a computer class so I would have income, and continued to work towards my goal of realizing my dream by the time I turned 60.
Mr. Did you meet Ms. Koko Kato, Managing Director of the National Congress of Industrial Heritage, around that time?
Mr. Sakamoto: We invited her to the 1st Gunkanjima Symposium in Nagasaki in 2003. I had been communicating with her by email before that, but that was the first time we met. Initially we planned to go to the island and watch the sunset after the symposium, but discussions became heated and went an hour and half overtime, and ended in a deadlock [laughs].
Mr. Kimiyasu Shimazu, then-president of the Shoko Shuseikan Museum in Kagoshima, came and after that I visited Kagoshima. We became close by visiting each other back and forth like that.