PEOPLE
Awareness of "Stories with Connections" is steadily spreading throughout each region~There are also challenges for conservation management and interpretation~
World Heritage Consultant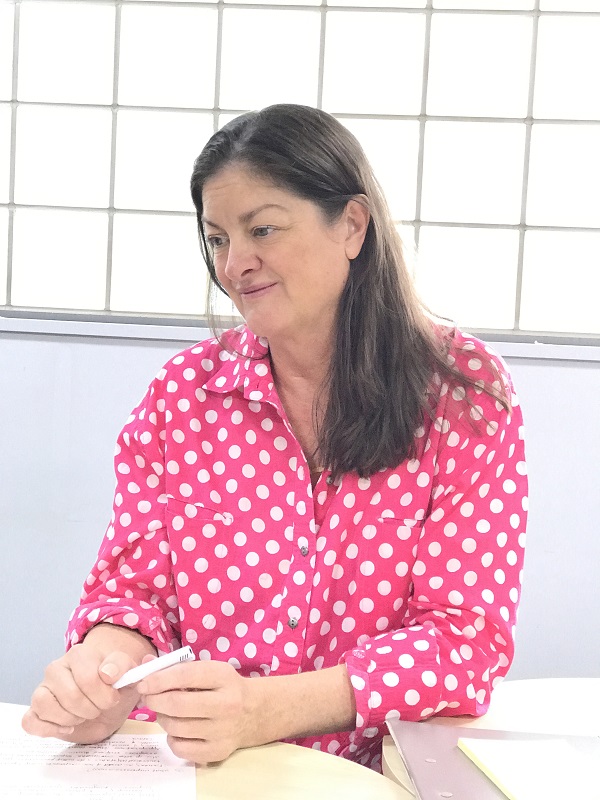 ■Test-driving the "Giant Cantilever Crane" during the approaching typhoon
――What was your first impression of Japan when you first visited?
Ms. Brazil:More than anything else, I was surprised at the complexity of the serial nominations for the "Sites of Japan's Meiji Industrial Revolution," which has 23 component parts. Careful research and many conversations had to be held to understand the real picture and complex story of each component part.
The first thing I thought strongly was, "How much work is constantly required in the process of inscribing 23 complex component parts on the World Heritage List?" A lot of difficulties were expected. How many meetings and negotiations must be conducted with the parties involved? Will each region gain an understanding of the importance and value of being registered as a component parts of the World Heritage Site? How will support be gained for conservation activities in the future? The weight of these issues was tremendous.
――It must have been a lot of work.
Ms. Brazil:Yes. After all, I went through 23 component parts in just 12 days. By coordinating with parties involved in component parts from multiple perspectives while learning their content and stories. That was my mission, after all.
――At the Nagasaki Shipyard of Mitsubishi Heavy Industries, Ltd., you were forced to board a giant cantilever crane in the midst of strong winds.
Ms. Brazil:That in itself was not difficult at all, though. At that time, it was just before the typhoon. In that sense, it was a valuable opportunity to experience with my own eyes the challenges that Japan is facing—the need to preserve this historical heritage under severe weather conditions.
This time, the schedule was suddenly changed due to a typhoon. The visit to Gunkanjima (Battleship Island) has been moved forward. The next day, I went to the Nagasaki Shipyard. Otherwise, we were worried that the waves would become too rough and we would not be able to return from Gunkanjima. When I got on the crane, there was a very strong wind and it shook greatly. It was certainly a once-in-a-lifetime experience that I was very excited to have had.
――What was your evaluation of the Japanese regime in this assessment?
Ms. Brazil:At this time, as a member of ICOMOS, I visited and evaluated the site from a neutral standpoint and confirmed the existing condition of the site. For example, Gunkanjima. Due to the nature of the location, the condition was very severe. In contrast, the Nirayama Reverberatory Furnace was in very good condition. Due to the nature of the heritage, each component part was naturally in a different situation, so each had to be managed according to its circumstances.
The members who conducted the inspection were a group that investigated technical and historical perspectives. I have compiled an investigation report divided into these two parts: the group I was in charge of investigating the authenticity and integrity, as well as the preservation and management systems of each component part. This report was submitted to ICOMOS separately. Ultimately, ICOMOS put it together and submitted it to the World Heritage Committee. We are only in a position to provide the materials. I do not judge directly. As a member of the latter group and an expert, I have objectively summarized the report.
My impressions are as follows. First, the diversity of this heritage. The story of modern industrialization in Japan depicted in this heritage is very complex and unique. And I was deeply impressed that each component part had evidence (well-grounded evidence). It was different from that of the Industrial Revolution in Britain. I was also impressed by the fact that there are experts in the technical aspects of conservation management in each municipality, such as archaeologists, who carry out conservation activities.
All the members felt relieved and liberated when they successfully made it through the long 12 days. After all, not only it was a tight schedule, but we were also directly hit by a typhoon.