PEOPLE
The City Connected to the World: Making the "Treasure of Nagasaki" the "Treasure of the World"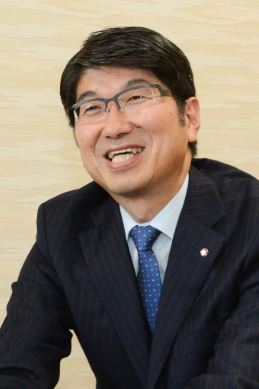 -- I would like to ask about the preservation of the Hashima Coal Mine (commonly called "Gunkanjima"). In its recommendation toward listing, ICOMOS (International Council on Monuments and Sites, a UNESCO advisory body) indicated that "urgent preservation measures are needed." Please tell us specifically what sort of measures were taken, and what sort of preservation activities are required from now on.
Since World Heritage listing, around 300,000 people have been visiting Gunkanjima each year. Gunkanjima was closed in 1974, and was an untouched, uninhabited island for 40 years after the residents left, so this is like discovering buried treasure. Such an event could happen in any region, so I think Gunkanjima plays a great role in proving that there is buried treasure in our day-to-day lives. From a different perspective, however, Nagasaki City was facing a very difficult attempt to preserve a place that had fallen into ruins.
By its nature, working toward World Heritage status is a declaration of an intent to hand down assets to the future. No matter how difficult it may be, I view achieving the preservation of Gunkanjima as the mission of Nagasaki City, and preservation plans are presently being formulated with assistance from a variety of experts.
In short, this is a plan to preserve the seawalls and production facilities that directly contribute to value as a World Heritage site, as well as the residential facilities which do not directly demonstrate value as a World Heritage but contribute to the silhouette of the island.
We expect to begin full-scale development work from 2018, and carry out preservation work over 30 years, at a total estimated cost of 10.8 billion yen. While subsidies will be received from the national government and the prefecture, because Nagasaki's World Heritage is the asset of the citizens of Nagasaki City, the city will fulfill its responsibilities, and we have established the Hashima (Gunkanjima) Development Fund, and we are collecting funds via the Furusato Nozei system for tax-deductible donations, and from individuals and enterprises. We are focusing efforts on expanding the range of funds collection activities toward gaining cooperation by all means.
-- Next, I want to ask you about the movie "Gunkanjima (Battleship Island)," which was shown in South Korea in July 2017. This story is about a rebellion by Korean laborers drafted from the Korean Peninsula for forced labor at Hashima Coal Mine during the Pacific War, and it depicts Gunkanjima as an "island of hell" where they suffered discrimination and ill-treatment.
I have not seen the movie because it has not been released in Japan. But I have seen the preview, and I have heard about the film from people who have seen it, so I am familiar with the story. This is a fictional account, and I have heard from people who lived on Hashima Island, who say "There was no discrimination - we worked together, and we played together." Facts must be properly conveyed as the truth. Understanding the need to work for an accurate understanding of the history of Hashima Island and actual living conditions, we decided to disseminate information on a Web site in four languages: Japanese, English, Korean and Chinese.
While there is a definite need to convey the historical facts of our industrial heritage to people overseas, it is also important to prepare an environment that allows Japanese people, particularly youth and children who bear the future of the nation, to fully grasp the historical background and take pride in talking about our industrial assets. World Heritage Promotion Office staff members are already giving lectures in schools, arranging study tours, and providing other opportunities for deep study of Japan's industrial revolution heritage as part of the class curriculum. Our policy is to focus on this even more in the future.
-- Finally, I would like to ask about the outlook for Nagasaki City with its eight industrial heritage sites.
World Heritage listing is not a goal, but a beginning for new urban development. It will come to nothing if it ends with a single boom. Nagasaki has developed as a city amid ties with the rest of the world.
While firmly grasping the historical role that Nagasaki has played, the city will work together with Nagasaki residents to make people aware of its value as a World Heritage site.
(Interviewer: Akane Maruyama)