PEOPLE
Blazing a New Trail for Serial Inscription-Format Conservation and Management with the Sites of Japan's Meiji Industrial Revolution: Training Personnel to Pass on Memory and Understanding as a Major Challenge in the Future
Heritage Architect and International Consultant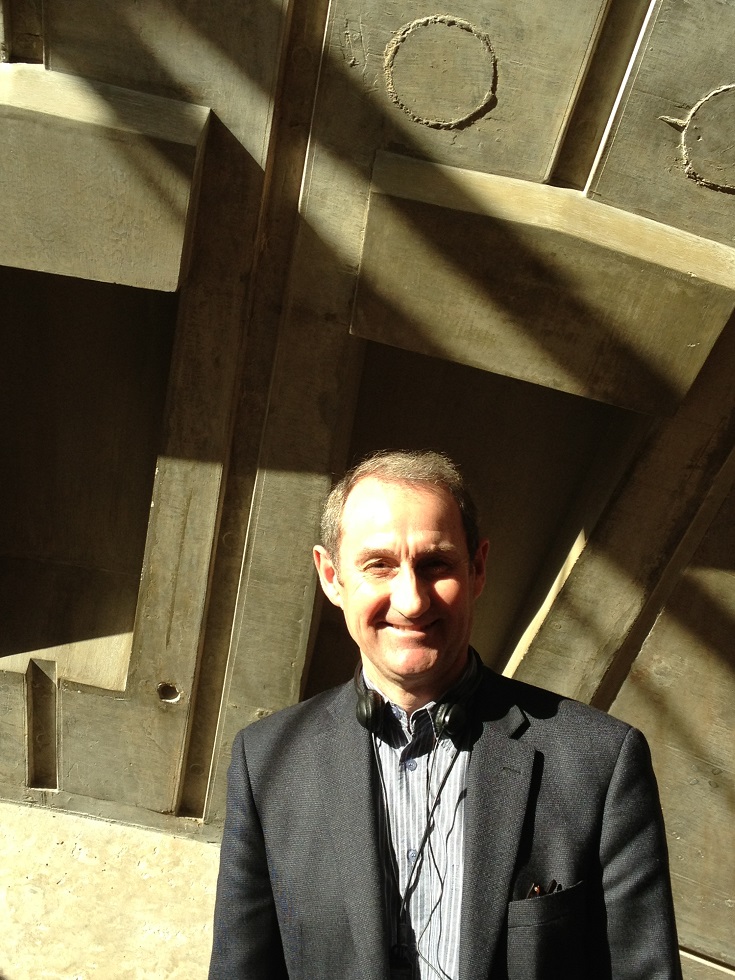 ■Practicing with "Mock Exams" to Pass ICOMOS Assessments
――According to Ms. Kato, I heard that you staged a "mock exam" assuming a question-and-answer session with an ICOMOS assessor before undergoing the ICOMOS assessment that is a prerequisite for World Heritage inscription.
Mr. Marshall: Yes, we ran a rehearsal simulation prior to the ICOMOS assessment, which could be said to be an absolutely essential part of preparing for World Heritage inscription. When the ICOMOS investigator arrives, we need to think about what to present and how to explain it, and, if any problems are discovered, to think of firm solutions to have prepared for the real assessment. We prepared hypothetical questions and answers. This is very important as part of the preparation process.
The path leading to World Heritage inscription is long and arduous. I believe that our success this time in inscribing the Sites of Japan's Meiji Industrial Revolution was largely due to Koko's substantial efforts and leadership. The process of receiving an ICOMOS investigator was also quite demanding, and there were a lot of issues that we needed to test in advance. With this inscription, I think that such preparation proved to be very successful.
――Something I've felt for a long time is that simply getting through that process is a testament to the value of the Sites of Japan's Meiji Industrial Revolution in its own right.
Ms. Kato: Because the Sites of Japan's Meiji Industrial Revolution was not easily acknowledged by the Council for Cultural Affairs. Without the help of Duncan and his cheering squad, we would not have been able to achieve World Heritage inscription. Even as many experts told us that its inscription was hopeless, we were able to break through a major barrier by virtue of having been able to create an alternative mechanism. Had we not been able to do that, I doubt we would have achieved inscription even now.
Mr. Marshall: Certainly, if Koko hadn't set her mind to it at the time, we would not have gone any further. I suppose you could say that the process leading up to this inscription was a kind of "small revolution." The Sites of Japan's Meiji Industrial Revolution is the record of a revolution staged by samurai at the end of Japan's feudal period, and I feel that this approach could in itself be described as a similar kind of revolution. That we achieved the World Heritage inscription of an industrial heritage complex including elements of working heritage – a property so completely unlike the prior Japanese World Heritage sites of temples and gardens –can surely be called a revolution!
――Another thing, I feel is that this World Heritage site, while being a record of an industrial revolution that took place in Japan, which was at the time one of the slowest developing countries in the region, also has value in the sense that this industrial revolution then spread to other parts of Asia.
Mr. Marshall: The fact that Japan achieved modernization and industrialization within such a very short period could be described as a historically significant feature. This heritage property is valuable in that it vividly conveys the contrast between "old Japan" and "modern Japan" to the people of the world as a historical legacy. People overseas are very familiar with the "heritage of old Japan" as typified in its temples and castles, but I would suggest that presenting the story of modern industrialization as heritage is a remarkable achievement. To use a Japanese word that I learned yesterday, I would say that this is sugoi!
――As an expert in the field, are there any ideas or methods you could impart for future conservation or management?
Mr. Marshall: When people talk about the conservation of historical heritage in Japan, the focus seems to be on an approach that undertakes large-scale "restoration" projects that take place every ten or twenty years. In contrast, if I were to make a suggestion, I feel that it might be useful to give a little more consideration to an approach that, aside from this, also involved cumulative "maintenance and repair" in smaller-scale increments.
Another issue shared by all heritage work is the issue of seismic reinforcement. While this is a dilemma that Japanese experts will also appreciate, the question is how to balance conservation with seismic resistance. While it is a basic rule to leave as much of the original structure as possible, since it is also conceivable that some parts can be structurally reinforced to be more resistant to earthquakes, finding a way to strike such a balance can be quite a sensitive question.
For example, the original lock gates installed at the time of the construction of the Miike Port are still actively being used as a port facility. Although I'm an architectural specialist, from my point of view the entire Miike Port itself – including its Meiji-era locks, sluice gates, and sluice gate operation room – is an incredibly valuable heritage site as a whole. How should this be maintained? In the case of the Miike Port, it is precisely because the private firm that owns it has continued to use the facilities while making small, piecemeal repairs without replacing anything with new parts, that it remains in use today without having lost its value as working heritage.
――I feel that training personnel is also important for the conservation and management of historical heritage. Do you have any advice on this point?
Mr. Marshall: Something I've felt on this visit is that some of the people in charge of managing the various component properties have been replaced (by transfers and that sort of thing). This is a little worrying. How can we develop a secure mechanism for passing on the knowledge we have accumulated thus far in terms of the path by which we have been able to achieve World Heritage inscription, and how it is to be managed in future? This is very important. On this point, and I want to suggest to Koko as well, I think it will be necessary to bring in a kind of training system to ensure the retention and transmission of the memories and understanding we have achieved so far. I hope that this is something that can be put into practice by both the municipalities where these sites are located and the private companies who own them.
Thank you for taking time out of your busy schedule to talk with us today.
(Interview and summary: Takeo Takashima; Interpreter: Minae Toya)