PEOPLE
Blazing a New Trail for Serial Inscription-Format Conservation and Management with the Sites of Japan's Meiji Industrial Revolution: Training Personnel to Pass on Memory and Understanding as a Major Challenge in the Future
Heritage Architect and International Consultant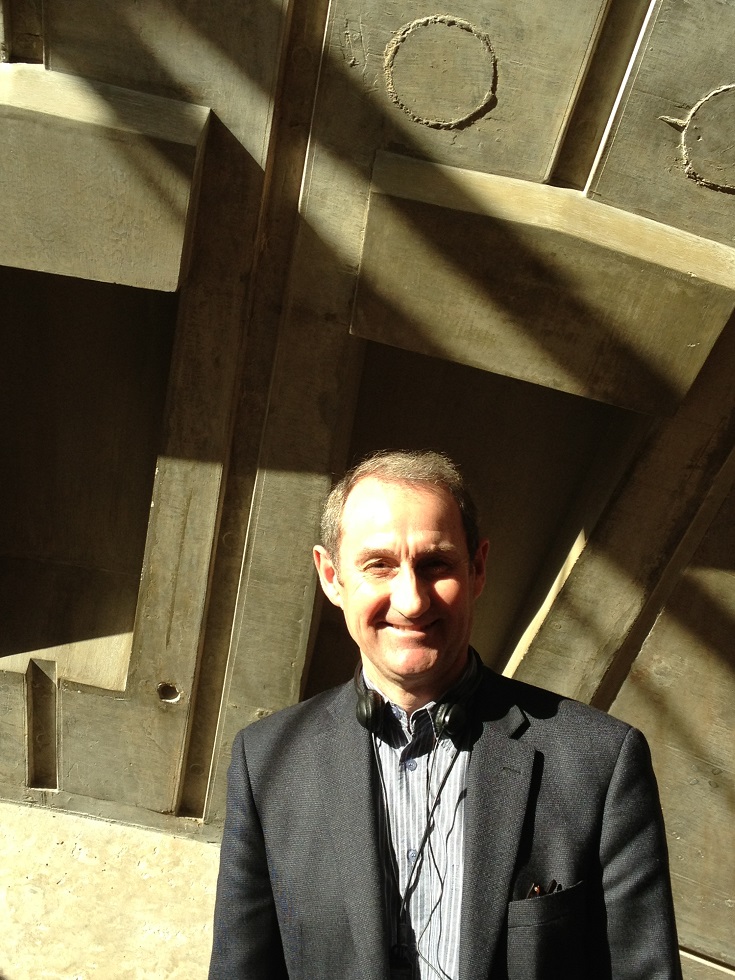 ■Working Heritage Conservation and Typhoon and Earthquake Countermeasures as Major Challenges
――Is the purpose of your current visit to Japan to inspect efforts so far and to explore new issues with a view to future conservation and management?
Ms. Kato: There are two main purposes for Duncan's visit to Japan on this occasion. The first concerns the conservation of working heritage at the government-managed Yawata Steel Works in Kitakyushu and at Miike Coal Mine and the Port of Miike Port, which he has not visited on this occasion, while the other is to inspect the current state of and identify issues with the conservation and management of properties that face difficult challenges, such as Gunkanjima (the Hashima Coal Mine).
Mr. Marshall: Both Yawata and Gunkanjima are facing difficult management challenges. In the case of a working property, how do you balance conservation with operations? This is a major challenge. On the other hand, with Gunkanjima, conservation alone is a major challenge. Here we have an island in a harsh environment exposed to typhoons. The site is already damaged and deteriorating, and conserving it for the future will be a difficult task. During this visit, Michael Pearson and I spoke with local administrators as well as national and municipal officials about future conservation and restoration.
Another task was to check for any changes since World Heritage inscription. The number of tourists and other visitors is rapidly increasing at all the component properties. More people are also crossing the sea to visit Gunkanjima, so we observed what sorts of changes were taking place from a tourism angle.
――Speaking of tourism, I would think that there are both positive and negative aspects.
Mr. Marshall: That's true. While having more people come to visit contributes to a deeper understanding of World Heritage, having too many will yield negative consequences. This might even result in a crisis, such as by accelerating the destruction of the heritage site.
Just yesterday, I visited the Nirayama Reverberatory Furnaces in Izunokuni City, and it seems that the number of visitors here too has risen dramatically from approximately 50,000 people per year before inscription to close to 700,000 visitors in the year following inscription. According to the officials in charge, this has fortunately not yet caused any particular damage to the property. It is also expected that the number of visitors has already peaked and in future will probably remain at around half this level, around 350,000, which will not pose any problem in terms of capacity.
However, we need to remember that excessive congestion poses a problem not only in terms of the risk of direct damage to the property, but also in terms of detracting from an adequate understanding of the value of the assets and not leaving room to enjoy the property. With that in mind, I would like the administrators of each of the component properties to have a firm idea of their capacity in advance, so that they will be able to practice management that prevents any problems before they arise.
――I feel that the promotion of tourism is important in the sense that the money spent by visitors constitutes a resource for the upkeep of the component properties – especially in an era like today, when there is little funding to be had at either the national or local level.
Mr. Marshall: We heard the same story in Nirayama. There, the admission fee for the Guidance Hall was to be used for conservation. In the case of Nirayama, the admission fee of 300 yen is scheduled to increase to 500 yen in April, but to my mind this price is still a bargain for Japanese visitors. It's a good deal – one that is easily justified by what you get for the price.
Ms. Kato: Tourism is especially important for properties in depopulated areas, such as former coal mines. While tourism income represents a source of funding for local development, at the same time, I feel that it is also quite important in that it can instill a sense of local pride in the children who live there, and can also provide educational opportunities.
Mr. Marshall: One small challenge that I've noticed on my trip this time is the importance of getting younger children interested. Although not a component property, I was heartened at the sight of a group of what must have been nursery school children visiting the former Mikawa Pit in Miike. On the other hand, at Nirayama I was told by someone in charge that they were not set up to offer much of interest to children, but when I entered the facility I did see one of those mascots you call yuru-chara in Japan, and I thought that something like that might attract children's attention.
At an archaeology-related facility I visited in Hyogo Prefecture, I saw exhibitions oriented to children as well as others that enabled interactive dialogue, which I thought was very interesting, and I thought that it would be great if we could bring that kind of ingenuity to World Heritage as well.