PEOPLE
Path to becoming a World Heritage Site
Pro-Provost and Chairman of Council of the Royal College of Art. Heritage advisor of Canal & River Trust for England and Wales.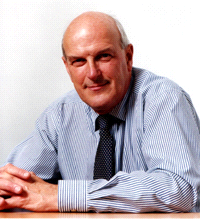 How did you feel when you came over to Hagi?
Hagi is a beautiful town, important in this context as it embraces both Japan's pre-industrial culture and the early proto-industrial steps towards full industrialisation. In this sense, it more than deserves its place in the World Heritage series.
And, of course, my visits there have always been made the more enjoyable by the hospitality of Koji Nomura, Hagi's enthusiastic mayor.
What attracts you most about this nomination?
As a series it encompasses a truly global phenomenon, unique as the first Asian nation to pursue, through a determined policy of economic and social change, an industrially-led transformation. That this can be seen, and read, and understood, through such a comprehensive ensemble of material evidence is inspiring.
How did you get involved?
As an industrial historian I had long known of Japan's industrial revolution. In the early 1990s, as Director of London's Science Museum – the National Museum of Science & Industry – I organized an exhibition on Britain's emergence as the first industrial nation that toured Japan, exhibiting at Kitakyushu, Kobe and Tokyo.
Later, my great friend and colleague Stuart Smith, who had with Koto Kato explored and recognized Japan's own industrial heritage, introduced me to the extraordinary richness of industrial sites that were eventually to form the World Heritage series.
It is a cause of great sadness to me that Stuart did not live to see the fruits of his support for this outstanding inscription.