PEOPLE
World Heritage Inscription: Report on the 2015 Celebratory Party Held in Bonn, Germany
At the 39th session of the World Heritage Committee convened in Bonn, Germany, from June 28 to July 8, 2015, the decision was approved to inscribe the Sites of Japan's Meiji Industrial Revolution on the World Heritage list.
At a celebratory party held to mark the occasion, some of the primary promoters of the project spoke of their joy in achieving their goal and of the trials and tribulations to getting there.
Background of World Heritage Inscription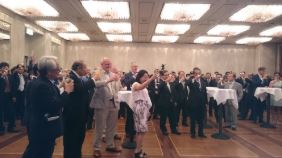 Comments by Mr. Tomihisa Taue, Mayor of Nagasaki City


Inscription was our goal, but for a city with a number of World Heritage sites, this is also a starting line from which we will be working together with everyone in the region with an eye to the future. Of the 23 heritage components, eight are located in Nagasaki. This is, in a sense, an indication of the historical role Nagasaki has played. We take pride in this and also consider it out responsibility as a World Heritage city to convey, together with citizens, the great value of these sites to as many people as possible. There are still issues to be tackled, such as how to conserve Gunkanjima, the Hashima coal mine mentioned earlier. We have already begun to address these issues. With the help of specialists, we will strive to draft and implement appropriate conservation and management plans. As we move forward, I ask for the continued help and support of the national and prefectural authorities, and of the many individuals who have worked with us to date.
Comments by Mr. Koji Nomura, Mayor of Hagi City


Ten years ago, in 2006, the Agency for Cultural Affairs changed the procedures for deciding on World Heritage nominations and called for applications from the public. We applied and over the next 10 years we were embroiled in a diverse range of activities. Our area has five of the World Heritage components. The reverberating furnace never actually became fully operational and was really just an experiment. Ebisugahara Shipyard and Ohitayama Tatara Iron Works are very early heritage facilities. At Shokasonjuku Academy, Yoshida Shoin taught many young men who would later play major roles in Japan's modernization. One group of his students dared to defy the prohibition against leaving Japan to secretly make their way to Great Britain and studied at University College London. These students returned as living instruments of Japan's modernization. The experience of this group opened the floodgates for others at the end of the Tokugawa shogunate to go abroad to study and master Western technologies. Upon returning to Japan, these people established schools and introduced modern engineering technology and know-how. This World Heritage inscription is a recognition of these considerable efforts and this makes me very happy. As we strove for this goal, those of us in Hagi were oftentimes scolded and also encouraged by many people, but Ms. Koko Kato in particular. We were honored to have Sir Neil Cossons visit Hagi two times and to have his invaluable advice and guidance for which we are truly grateful. Thank you very much.
(The celebrations were brought to a close with Mayor Nomura's call for cheers of "Gambaro!")