PEOPLE
World Heritage Inscription: Report on the 2015 Celebratory Party Held in Bonn, Germany
At the 39th session of the World Heritage Committee convened in Bonn, Germany, from June 28 to July 8, 2015, the decision was approved to inscribe the Sites of Japan's Meiji Industrial Revolution on the World Heritage list.
At a celebratory party held to mark the occasion, some of the primary promoters of the project spoke of their joy in achieving their goal and of the trials and tribulations to getting there.
Background of World Heritage Inscription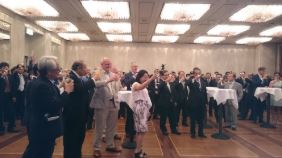 Address by Mr. Hiroto Izumi, Special Advisor to the Prime Minister
Allow me just a few words. My first meeting with Ms. Koko Kato was five years ago. I don't know if this was for better or worse. Since arriving here in Bonn, I have been getting 30 emails and 15 phone calls from her every day. It is generally much the same even back in Japan.
Prime Minister Abe is a very sincere person. I am told he also gets lots of emails from Ms. Koko Kato, as does her brother-in-law, Mr. Katsunobu Kato (Deputy Chief Cabinet Secretary at the time of this report).
Well, I am not sure what my point was, but suffice it to say none of this would have been possible without Ms. Koko Kato. Congratulations!
("Koko" calls reverberate throughout the room.)
Address by Ms. Koko Kato, Managing Director of the National Congress of Industrial Heritage


Special Advisor Izumi is right. I have indeed sent him 30 emails in one day and have generally made a nuisance of myself as I pushed everyone to promote this project. For me, this effort has been going on for 16 years. I am at a loss for words to describe my deep joy in being able to celebrate this moment with all of you who supported my efforts. My only regret is that the media has tended to focus on the political implications that have overshadowed the dynamics of this project. This was Japan's first large-scale serial nomination, and in the process, we achieved many breakthroughs.
For example, with the Sites of Japan's Meiji Industrial Revolution, we are the first in the world to apply the joint principles of the ICOMOS (International Council on Monuments and Sites) and TICCIH (The international Committee for the Conservation of the Industrial Heritage) to implement a conservation philosophy. And we are the first in Japan to introduce a comprehensive management system for industrial heritage sites, each of which also has its own conservation and management. This framework has made it possible for private corporations to take the lead in conserving heritage sites, a revolutionary move even on a global scale. We also got the Japanese government to create a new tax system that allows lower property taxes for private entities that own and operate heritage industrial facilities. This tax system also provides a new source of funding for World Heritage sites and is an innovative move that has attracted attention worldwide. Thanks to backing from the special advisor to the prime minister, we were able to have an Industrial Heritage Office set up inside the Cabinet Secretariat. We will need to make sure that this office continues so as to apply the innovative system that has been put in place. I believe the events today have helped you to understand how important this is for conserving World Heritage properties. If oversight reverts to the Agency for Cultural Properties, the Sites of Japan's Meiji industrial Revolution will have to be included on the endangered World Heritage list.
Hereafter there will be evaluations to check that the framework we have put in place is functioning as it should. It is a major achievement to have been able to place the framework within the Cabinet Secretariat and we will need to ensure that it stays there.
We will continue to face new challenges, but no matter the difficulty, we will need to keep this day in mind as we work together to overcome every obstacle.
Conserving Hashima Coal Mine, for example, is a major challenge. But then every component of this kind of large-scale serial listing will require the combined support and collaboration of government, private industry, and everyone involved with the heritage properties. Full participation is our philosophy. Let us work together with all we have to achieve more breakthroughs.