PEOPLE
Shoin Shrine has a mission to convey the history leading up to the Meiji Restoration properly
Honorary Chief Priest Toshinari Ueda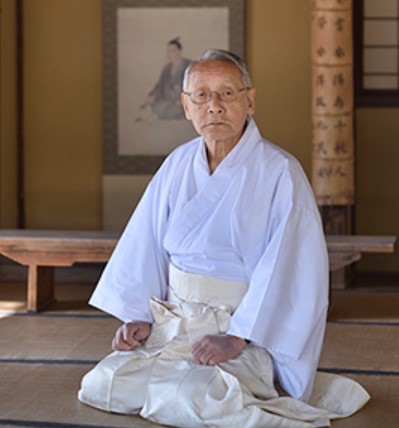 The registration of Sites of Japan's Meiji Industrial Revolution Heritage as a World Heritage Site plays a role in correcting distorted history.
Ueda: I find it puzzling that so much of the history of the Meiji Industrial Revolution has been omitted from the minds of many Japanese people, despite the fact that it is an event of such interest that many overseas people wonder, "What kind of magic could have achieved such growth in such a short period of time?
Kato: One possible cause is the post-war education system, as GHQ's policy was to black out the facts of Japanese achievements in modernisation in textbooks. I think the registration of Sites of Japan's Meiji Industrial Revolution as a World Heritage Site also plays a vital role in correcting this distortion of the facts and changing the mindset from 'Japanese people are no good' to 'Japanese people are great'.
Ueda: Showing that the Japanese people have great underlying strength will lead to confidence and motivation among the Japanese people, which in turn will support Japan in the future. This is a big thing. We can learn many things from how Japan was at the end of the Edo period.
Kato: For example, Japan has a population of 125 million people, and although people bemoan the low birthrate and ageing population, the population at the end of the Meiji period, when the country achieved the feat of industrialisation, was 33 million. In other words, there is nothing to fear, and the population has nothing to do with it. What is essential is ambition. I firmly believe that even if there is only one highly ambitious person like Teacher Shoin, he will surely be able to transform Japan into a prosperous country.
Ueda: I also feel that the influence of a highly ambitious person is great. When I feel Teacher Shoin's resourcefulness, I am amazed at what leadership means. It is said that 92 students attended Shokason-juku, of which 78 have personal reviews written by Teacher Shoin.
We have painstakingly extracted and compiled Teacher Shoin's writings and published them from the shrine. From this background, I believe that Teacher Shoin was a teacher of personal guidance and guidance of individuality. I am convinced that Teacher Shoin faced each of his students and guided them "sharply, strictly and gently".
Kato: I see. It is interesting that he provided guidance in a balanced manner.
Ueda: The students who spent the longest time with Teacher Shoin from the timtrane of his incarceration spent two years and ten months with him, and those who moved to Shokason-juku spent just over a year with him. What was essential for raising the morale of the students in such a short period of time was not only wisdom and knowledge but also popularity, wasn't it?
Kato: At that time, Japan was in a period of upheaval, and I think the thoughts of many people were intermingling. Teacher Shoin was imprisoned in Nonoyama Jail for the Shimoda Stowaway Incident, in which he and Kaneko Shigenosuke infiltrated Perry's fleet and attempted but failed to smuggle themselves overseas. I suspect that, amidst a growing sense of frustration at not being able to finish halfway through his ambition, he may have vowed to abandon himself and devote his life to nurturing the next generation of leaders.
Ueda: In order to fulfil the goal of building a new country, we needed each other. There is a phrase that Teacher Shoin left behind when he opened Shokason-juku: "The school is located in a dreary village like Shoka-rouson, but I swear that it will become a thick trunk that will support the land of the gods". This means that even though the school is located in the countryside of Shoka Village, it will indeed become the trunk that supports Japan.
Kato: And the dream has become a reality, as he declared.
Ueda: I believe that Shoin Shrine has a mission to disseminate the achievements of Teacher Shoin and other aspirants. That is why we held a symposium last year on 5 November, when we moved from the confinement room, the size of three-and-a-half tatami-mats, to Shokason-juku, on the theme of 'Shokason-juku's Present, Past and Future'.
I have also been giving lectures at the village school since around 2010 when I took up my post. Before that, it was 100 per cent impossible to go up to Shokason-juku, but I decided to open it up for training purposes only, in the hope that people would actually go up to the room and experience the atmosphere, which would lead to the ability to send out messages.
Kato: I am deeply impressed by the hard work of the chief priest. I have also always felt respect for the Hagi people's attitude of facing up to history, being strict about it and valuing it. In my candid opinion, I have apprehensions that the achievements of Teacher Shoin and his fellow aspirants have not yet penetrated the whole of Japan. I think the state of Japanese history education is also to blame for this.
Ueda: Yes. The issue of the name 'Yoshida Shoin' being removed from high school textbooks along with 'Sakamoto Ryoma', 'Takeda Shingen' and 'Uesugi Kenshin' because they are too many words has recently surfaced, and we are currently working on a framework for how we will deal with the Ministry of Education.
Kato: Some people believe that Yoshida Shoin was a thought criminal who fostered terrorists from the perspective of the Edo Shogunate, but this is a distortion of history. When distorted information is transmitted, lies are engraved as truth in people's subconscious. In Japan, we do not have proper historical education, so lies tend to be easily replaced as facts, and this is very frightening.
Ueda: What are your thoughts on South Korea's statement about Hashima Island, such as "Gunkanjima was a hell island," Ms. Kato?
Kato: I think the only way to dispel the distortion of history is to fight. As agricultural people, the Japanese have a tendency not to appreciate conflict or fighting. However, I think one ought to fight when it is necessary. In the war between Russia and Ukraine, propaganda is being carried out by Russia, but Ukraine is not just waiting for the misinformation to be swept away. They immediately take action and fight.
Ueda: Waiting for the day the distorted history will be forgotten is not going to happen. Leaving it alone is tantamount to admitting: 'I'm fine with that'.
Kato: But there is an element of relief regarding Hagi's history. After all, a samurai spirit flows among the people of Hagi.
Ueda: In any case, distorted history cannot be left as it is. It is important for human beings to live with a belief in the innate goodness of mankind, but when it comes to the nation-state, I think there are situations where it cannot be said that it is the correct way to base the decision-making process on just the faith of innate goodness of human nature.
Kato: The question is what constitutes a good character, and as long as it is an absolute fact that Teacher Shoin's aspirations and what he achieved turned the course of Japanese history around, it is a story that can be asserted with dignity. There is no need to be timid. I believe this is a matter in which we can clearly counter that it is simply outrageous that Teacher Shoin's achievements should be erased from textbooks.
It seems to me that a significant issue for the future is to tackle the problem of school education in history. I would very much like you to send tremors from Hagi. I will do my utmost to support you and ask for your continued support. ----- End.