PEOPLE
18 Years History of a Tourist Guide Business and an Outpouring of "Love for Misumi West Port." ~"Registration for World Heritage is Not Simply a Goal, but a New Starting Point."~
Chairman of the Tourist Guide Association of Misumi West Port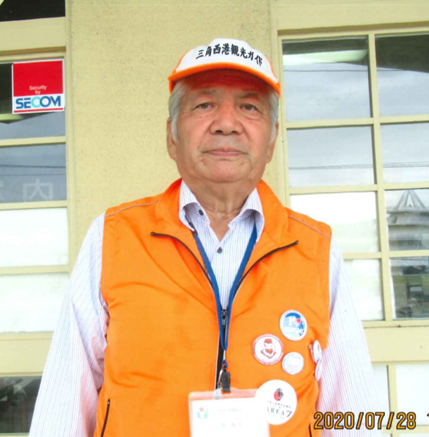 ■Do Not Let the Corona Win! Started "Regular Guide" on Weekdays and Holidays
--I heard that your main business is as a farmer who produces mandarin oranges and decopon (tangerine), but is it true that you do not even take a break from guiding business even when you are busy with your farm work, such as during the harvest season?
Saito: Yes, I take time off from my work while I am busy with activities related to the West Port (laughs out loud). To tell you the truth, I am taking about half a year off for a break. The reason I have been able to do this is all thanks to my wife named Eriko. We have been married for 46 years, and the other day I gave my repentance on a TV program, and she told me that she would "let 46 years of dissatisfaction and pent-up feelings go away," but since the next day she has been furious with me again (laughs out loud).   
--Mr. Saito is like a "living dictionary of Misumi West Port," but as a guide, how many people do you really guide each year?
Saito: We have a tally of the total number of guides. It is said that in fiscal 2014, before it became a World Heritage Site, there were 162 guides and 4,784 visitors. In fiscal 2015, when it became a World Heritage Site, the number jumped sharply to 598 cases and 17,797 people. In fiscal 2016, it saw a decrease due to the impact of the Kumamoto earthquake, but in fiscal 2017, the number reached a record high of 746 cases and 25,101 people. I think I guided roughly one-seventh of the number of cases. But then it started to decline since then, and in fiscal 2019 there were 210 cases and 4,608 cases. And this fiscal year has been devastating because of the COVID-19 calamity. As a result, within the three months between April and June, we only had two cases, where we had a local broadcaster who came to cover the story accompanied by officials of the prefectural office.
--Not only it is a very tough situation, it is also hard to come up with a solution to this problem…
Saito: Nonetheless, we cannot just sit on our hands and do nothing, so we started the "regular-hour guides" in July. Actually, we started it in October last year, and it had been suspended during May and June this year. Nevertheless, we introduced a new system in which a guide, who would be waiting on standby, would guide walk-in tourists who come in on a first-come, first-served basis at 11:00 a.m. and then at 2:00 p.m. on weekdays and holidays. Until now, we only guided tourists who had reservations, but we can no longer just wait for them, we need to work on attracting them and calling out to them. We prepare in advance and make sure that we are ready to take on any challenges at hand. We are starting to work on that. (Furthermore, tours using regular-hour guides have been temporarily suspended since August 6, 2020, as a countermeasure for corona infection).
--So it is basically all about sacrificing your own time and waiting for tourists who might come at any moment is it not? You can feel how determined or more like how prepared Mr. Saito is. It is tough to deal with the COVID-19 in the current situation, but in the medium to long term, it is necessary to take measures to stimulate people so that we do not lose our wealth.
Saito: There seems to be a jinx that all industrial heritage sites lose their ability to attract visitors after about three or four years. The number of tourists to Iwami Ginzan (silver mine) and the Tomioka Silk Mill is said to be decreasing as well. Overseas, especially in Europe, industrial heritage is recognized by people to some extent, while Japanese people do not seem to pay much attention to the past in general and do not seem to have much interest in old things. Moreover, it could be due to the fact that in Japan, new World Heritage Sites are being registered one after another these days, so I suppose that could be the reason behind people being attracted to different things.
There are not many scholars and researchers specializing in industrial heritage. That is why I think the government needs to be a little more aggressive in raising awareness of industrial heritage. Otherwise, I think it will be difficult to maintain and preserve our precious industrial heritage. The important thing is to value and take care of the old and innovative ingenuity that allows it to transform into something new.
--From what I have heard so far, I could keenly feel the strength and depth of "Love for Misumi West Port" of Mr. Saito. What is it that drives Mr. Saito to do such a thing?
Saito: It is not easy to be the best in Japan or the world, is it not? Misumi West Port, which is located in my hometown, has been designated an important cultural property and registered as a World Heritage Site by UNESCO. This is truly our pride and spirit. At the end of the West Port, the sea is open and leads us to the world. Misumi West Port is said to be "a sacred place of East Asia (that opened itself up to the world)." We have come this far thanks to the efforts of many people involved. I think it is the duty of the local people to take it to the next level.  Becoming a World Heritage Site is not the ultimate goal; it is merely a starting point. I would like people, including children, to face this issue with that kind of attitude. I think the true significance of World Heritage is to pass it on to the next generation.
--That is a wonderful statement. What do you think we have to exactly do to pass it on to the next generation?
Saito: There are many things that need to be done. For example, for the records of loading and unloading coal, we have data up to 1892 and 1893, but we have not found any records following that. This matter also has to be looked into. Furthermore, we are also are unaware of what kind of cargo ship comes after the first ship named Hideyoshi-maru and Yoritomo-maru. For the coal storage in the vicinity of Misumi, I have even gone around to the District Legal Affairs Bureau and looked over about 100 documents, but I have not yet completed my research. There are also researches that have to be completed in regard to great minds who have made prominent differences. That is how we need to compile and disseminate the material. If we do not do that, we would not be able to pass them down to the next generation. That is what I think.
--It seems to me that both the local government and the national government still have a lot more to work on.
Saito: Investigation activities ought to be conducted by the prefectural and municipal governments. It is no use just complaining about them, so I am doing it myself (laughs out loud). I have a piece of my mind to offer to the national government as well. The Cabinet Office has an organization called the World Heritage Office, but in my opinion, it is not functioning very well. There are not enough full-time employees dedicated to the department, and many staff members are busy with other jobs, and the government is especially busy right now with countermeasures against coronavirus. This year is the fifth anniversary of the registration as a World Heritage Site, but it seems like they are too tied up right now in other things they do not have time for it. One example that shows that we need to work more is the fact that the logo of the "Industrial Revolutionary Heritage of Meiji Japan," which we took the trouble to create, has not yet become very popular. I think we need to make a more sustained effort to have the logo permeate the society more, and not just being satisfied with an attitude like "Once it is registered, we are all good to go." It must not end with a one-time event.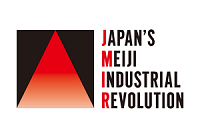 What I would like to see the local government do most is to build a proper museum and collect and preserve original materials. I would like a place where children can be educated about the history of the region and the technology of the time. I would really like to see such a facility built.
--We have heard valuable stories that will help us to preserve and utilize all the component assets of the "Industrial Revolutionary Heritage of Meiji Japan." Thank you very much for today's talk.