PEOPLE
To Mark the Passage of "Time" Together with Nirayama Reverberatory Furnace ~To increase the attractiveness of "reverberatory furnace tourism" through the use of commercial museum and restaurant business~
President of Kuraya Narusawa Co., Ltd.
Chairman of Izunokuni City Tourism Association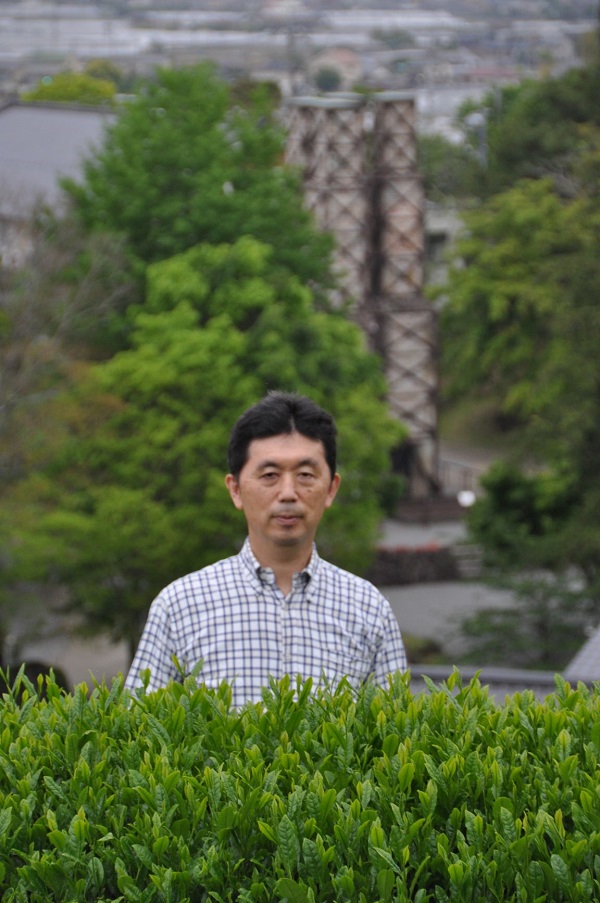 -Your products, both tea and craft beer, have unique brand names associated with the Nirayama Reverberatory Furnace. In particular, your tea, "Chano-an" (茶の庵), which you started in 1954, is called "Tea Heated with Reflective Far-Infrared Rays" (反射式遠赤外線火入茶). What kind of method is used to brew this tea?
Inamura: We started using the "Chano-an" brand when we reopened the gift shop and restaurant in July 2015, when the Nirayama Reverberatory Furnace was inscribed as a component of World Heritage Site. In recent years, the demand for tea has been sluggish, especially for tea brewed with a tea-pot, which its popularity being pushed down by drinks in pet bottles. Therefore, we, as a tea shop, cannot survive unless we produce high-quality tea that can be brewed in a tea-pot. With this sense of crisis, we developed the highest quality tea called "Tea Heated with Reflective Far-Infrared Rays."
 "Chano-an" is characterized by the introduction of the latest high-performance drying equipment that emits far-infrared radiation in the final finishing process—which is called "hiire" (heating process) in the industry. That is how we beautifully and carefully finish up brewing our tea. To put it simply, a dome-shaped reflective plate is placed on top of the drying equipment, and together with a gas burner at the bottom, it dries from two directions. This system brings out the flavor of the tea and makes it possible to produce high-quality tea with a good aroma. Based on our use of a reflective plate, we named it "Tea Heated with Reflective Far-Infrared Rays"—of course with the permission of the machine manufacturer.
-I understand that you have been holding a tea-picking event for tourists since 1975.
Inamura: It is often said that "visitors from outside feel the attraction of things the locals do not notice," and this event is just like that. For tea farmers, it is a festival, an occasion for celebration, to pick the first-grade tea (first picking) after the eighty-eighth day from the beginning of spring, which they have carefully cultivated over time. The cotton kimono they would wear on those occasions was truly considered one's best clothes for a special occasion. So, at the time of my father's generation, he bought new kimono to use these as part of a sales promotion campaign for new tea and tried to get the sales staff to wear it. However, they did not want to wear it, saying "I do not want to wear such a heavy and hot thing, when I am so busy."
 Nonetheless, young tourists who saw the kimono said, "I would love to try it on," instead. Then we wondered, "Well, why don't we just rent it out?" That is how it all started. Recently, the event has become popular as a great way to experience cosplay and look good on Instagram, and thus, more than 8,000 people participated in three months last year. We hold this event not only in the spring, but also during the fall harvest.
-Craft beer, on the other hand, was started in 1997. This leads to the era of breweries, and a return to your core business, so to speak, is it not?
Inamura: Yes. Not only was the microbrewery business booming at the time, but also because we had originally been making alcoholic drinks using the spring water here. Therefore, we decided to launch and start selling a craft beer named "Reverberatory Furnace Beer" that uses the spring water from Nirayama. We decided to have this launch coincide with the complete renovation of the restaurant. The regular beers are named after great people associated with Izu, such as "Tarozaemon," "Soun," "Yorimoto," "Masako," and among others. The "Soun" is also being sold in the luxury train "Saphir Odoriko" operated by East Japan Railway Company (JR East), which has "green seats" (first-class seats) in all the cars of the train, and is very popular. We also brew about 30 other limited-edition beers within a year.
■The Key to Making the Most of World Heritage Sites for Tourism Promotion is to "Create an Appeal with Something Little Extra."
-When listening to you, I felt that you had a lot of hints on how local businesses can make use of the great tourism resource of World Heritage in their businesses. I think it is safe to say that this is a model case for heritage tourism.
Inamura: Thank you very much. While firmly developing our own business, we intend to take advantage of our location next to the Nirayama Reverberatory Furnace to move forward together with the furnace. However, rather than just saying, "We can do be successful with the help of the reverberatory furnace," we want to enhance our appeal and increase the number of customers who come for the sole purpose of visiting Kuraya Narusawa itself. By doing so, both the reverberatory furnace and our company will grow. That is the kind of future we are aiming for.
-There are 23 component parts in the "Sites of Japan's Meiji Industrial Revolution," and I am sure many local governments and tourism businesses are wondering how they can make the most of this valuable heritage for regional development and the development of the tourism industry. Finally, as you yourself have experienced the hardships of trial and error over the years, do you have any advice for us?
Inamura: I feel that tourists of today are looking for "something that they cannot experience unless they go to the area." How can we find that something and express it in a way that makes our customers happy? That is all we can do. Just like the tea picking event I mentioned, what we take for granted can be transformed into an unexpected resource for tourism.
-Thank you very much for lending us your precious time today in the midst of such a busy time right before the tea harvesting season.
(This composition and text was done by Takeo Takashima. This interview was done through a phone call in the middle of April.)
Photo by Kuraya Narusawa Co., Ltd. / Tea leaves picking event / Craft beer "Reverberatory Furnace Beer"