PEOPLE
In Industrial Heritage, It's the "People" Who Play the Central Role: How World Heritage Inscription Casts a Fresh Light on Hometown Splendors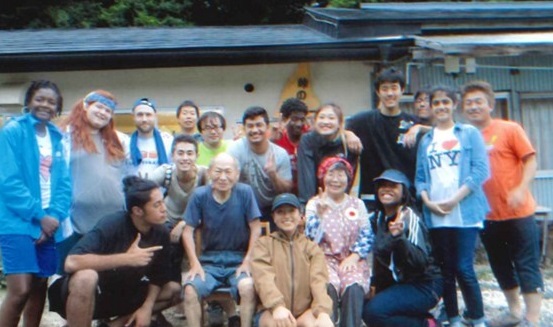 It is deeds, not words, that move people's hearts
Ms. Ogasawara: I also came to know Ms. Koko Kato through curry. When Koko came up to visit the Hashino Iron Mine for a site inspection, she came for a meal at the information center. I was really moved when she approached me to tell me how delicious the curry was, adding, "And the way the presentation is designed to look like he Hashino Iron Mine is wonderful, too. I was impressed." But what will stay with me is what she said next, "It's important for there to be people who appreciate the Hashino Iron Mine like this. It's the people who play the central role in industrial heritage." Until then, although I'd known that the Hashino Iron Mine had been selected as a component the Sites of Japan's Meiji Industrial Revolution, I'd been thinking it terms of "Well, it would be nice if it came to something, but I wonder if they can pull it off?" as though it had nothing to do with me. Part of me had also felt that "if it's such a valuable site, why has the country just left it abandoned until now?" But when I heard Kōko say that "people are central," something suddenly clicked. That is, I realized that being listed as World Heritage would actually be a tribute to the local people who lived in Hashino and taken care of the iron mines.
 And there is something else. It dawned on me that Koko, too, was motivated by a powerful sense that "whether I can or cannot, I won't know unless I try." It's easy to say, "Anyway, I'll give it a shot," but it really takes courage to actually take action. When I had just been trying to qualify as a licensed cook, I had held back because I was thinking about what I would do if I failed. Deliberating on the kind of resolution that Koko must have felt, with so many people's hopes invested in her, then as someone living here in my own home town, how could I not also throw myself completely into the dream of World Heritage inscription? Koko still visits the Tōge Chaya when she comes to Kamaishi. Even though we've achieved our goals, I'm very happy that we're still connected, which makes me feel that we have to work harder even still. It's been my personal experience that it is deeds, not words, the move people's hearts.
I have to enrich the place where I am
Ms. Ogasawara: After the inscription of the Sites of Japan's Meiji Industrial Revolution as World Heritage, there were suddenly a lot more people coming to see the Hashino Iron Mine. At one point, the road in front of Tōge Chaya was so full of people it was like one of those pedestrian-only streets in Ginza. I had never seen this place so busy with so many people. Tōge Chaya was also now booked up for days on end, and my husband I were run off our feet. We gave a lot of interviews to magazines, and have also been featured on television. Now, nearly five years later, there are some quiet days, and the bustling excitement has calmed down quite a bit. Even so, I feel that it was a big thing to have been inscribed as World Heritage. It has reminded us that the Hashino Iron Mine is a source of hometown pride. It's also strengthened my sense of gratitude toward our ancestors. Even so, all I can do is prepare my meals while feeling that I have to do my best to enrich the place where I am. But if everyone in the community joins together in the feeling that we have to enrich the hometown where we've each been born and raised, I think that would be a source of great strength. I'm going to keep running Tōge Chaya until I'm eighty, and after that I'll start looking for something I can do at age eighty. I'd like to start doing something new to get more people to visit Hashino Iron Mine. When I was young, I yearned for the city, but ultimately I've been given the strength to live in my own hometown. Clean air, fresh vegetables that are good for the body and pesticide-free, and human warmth… But the most important local specialty is human compassion. If we can provide visitors with memories of how their visit to Hashino Iron Mine was full of heartwarming encounters, that reputation will spread to people around the world. And I believe that people who visit once will be likely to return again and again.  
(Interview and summary: Akane Maruyama)
(Photos) Ms. Ogasawara and American high school students from NY who visited for an on-site learning