PEOPLE
In Industrial Heritage, It's the "People" Who Play the Central Role: How World Heritage Inscription Casts a Fresh Light on Hometown Splendors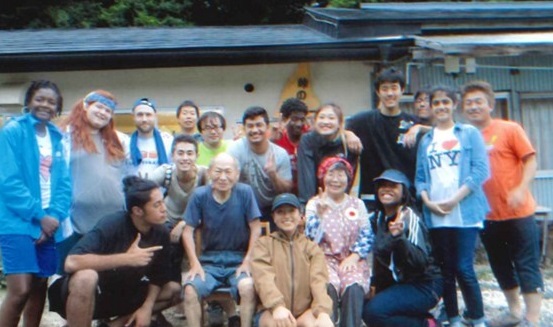 "You won't know unless you try."
Ms. Ogasawara: Of course it's only in hindsight that I can say that it was a good experience. In the course of dealing with the nitty-gritty aspects of business in the Women's Association, I was involved in a variety of conflicts. I didn't have any formal education and I was pretty naïve in the ways of the world, so I instinctively shied away from the idea that I could do anything significant. At the time, the director of the promotion center said to me, "You won't gain any confidence by not doing anything, but since we're calling on you because we believe you're capable, I want you to suck it up and get to work. You won't know unless you try, right?" I'll never forget that. At the time, despite that pep talk, I still felt myself to be at a loss, to the point where I pleaded with people not to let the director know I was there when I visited the promotion center. It was only when I saw that the product that we had made ourselves prove to be a major hit that for the first time I felt that "even a housewife can succeed if she tries!" They say that people who tell you the brutal truth are like the gods, but it's the truth, you know. Eventually, the idea of managing a restaurant came up at the Women's Association, and some folks advised me at the time that if I were going to open a restaurant then it would be a good idea for me to get certified as a cook. I guess I wasn't very confident about that idea, but then I remembered the director saying that "You won't know unless you try," and so I enrolled in classes at a cooking school in Kamaishi. My sons would say to me that "there's no way a sixty-year old is going to pass the national examination," but I figured I had nothing to lose, so I gave it a shot and passed on my first attempt. My family was astonished, as well, but I think that I might have surprised myself most of all.
Tōge karē, born out of connections with people
Ms. Ogasawara: The eatery we were running at the Women's Association served light meals such as udon, soba, and ramen noodles made with locally harvested wild vegetables. As the association's membership grew older, however, it became more difficult to keep the eatery running since the fact was that most of the younger people had left for the city. I thought that if that's the way things were, then I'd like to start up a restaurant that my husband I could run ourselves, which is when I conceived of the idea of "Tōge Chaya." When you get right down to it, I had worked hard to get my qualifications as a cook, and I wasn't at a point in my life where I was ready to stop using them. However, when the Great East Japan Earthquake struck in March 2011, we all suddenly had other things to worry about. I was contacted by the proprietress of the Hōraikan Inn, who was connected with me through our Local Cuisine Study Group. She had been wondering about whether there might be something we could do for the folks affected by the disaster. She said that she had set up a temporary diner at the Hōraikan, but she wanted to give her staff a break and was wondering if I could lend a hand. So I said I could help out with some light cooking, and decided to put together a menu of curry and rice and okame soba (i.e., a dish made with buckwheat noodles in a soup with slices of boiled fish paste, shiitake mushrooms, greens, and seaweed, etc.) I'd go up there once a week and serve food at the temporary diner. These days my work at the temporary diner is finished, but there was one day that a fellow from the city office came to eat there. He ordered a plate of curry and complimented me on how delicious it was. He recommended that if I ever opened my own shop, I should make curry the feature dish. When I replied that I didn't really feel confident enough at that point in time, he suggested to introduce me to a professional I could study with. The person he introduced me to is now the president of a nationally famous Japanese curry company. Even then, I went back to my bad habit and shied away from the idea, but I was inspired again by the idea that "you won't know unless you try" and decided to take him up on his offer. Even so, it was tougher than I expected. I was told to bring in some of my own curry, which I did, and after the first bite he said, "What's up with this curry?" He said my curry was fine for home cooking, but couldn't be used for business. When I asked him what was wrong with it, he said that it had too many potatoes. He pointed out to me that some people dislike potatoes, so I should be aiming to make a curry that everyone would like. I felt kind of dejected at that, but then he asked me whether I was truly motivated. When I answered that I really was game, he said to me, "All right then, I'll hook you up with one of my young people," and held out his hand to me. That's why my tōge curry, which is the product of the training I got at that company, is more than just any curry. It's a specialty that was born out of connections with people who cared. And that curry creates new connections with people who come to see the Hashino Iron Mine. Could there be anything more wonderful?
(Photos) American high school students from NY who visited for an on-site learning - they made thin wheat noodles and dumpling for lunch / they had curry set with edible wild plants for dinner