PEOPLE
In Industrial Heritage, It's the "People" Who Play the Central Role: How World Heritage Inscription Casts a Fresh Light on Hometown Splendors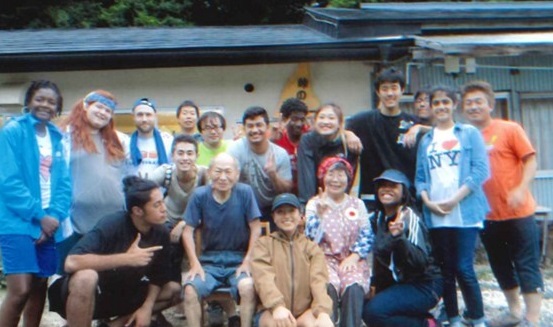 Involvement in the Aonoki Women's Association
Ms. Ogasawara: I was born and raised in the town of Hashino. My father ran an amusement park where Tōge Chaya is now, so the Hashino Iron Mining and Smelting Site is an old stomping ground. I was vaguely aware that it was supposed to be the pride of Kamaishi. But when I was young I found the countryside oppressive and yearned for the city. I also felt strongly that if I were to marry someone, he had to be an eldest son, a farmer, and someone who hated drinking. I was able to find someone who met these conditions, and that's how I married my husband. We went up to Tokyo to start our married life together and were blessed with three sons. Back then I used to bring the family home in the long summer and winter holidays, but then one day my husband blurted out, "You know, it would be nice to raise the kinds in a place like Kamaishi, with all that clean air." I said "What?!" (laughs) In those days, photochemical smog was a big problem in Tokyo, and while I thought my husband's idea made sense, I couldn't bring myself to go back to the countryside. Nevertheless, the idea of staying in Tokyo on my own was a non-starter, so I grudgingly made the U-turn and headed back. Maybe I was destined to return to Hashino. But nowadays I feel really happy that I accepted my fate. I was wrong to think that nothing ever got going in the countryside. Although at the time, I didn't imagine that there was any hope in a rustic place like this. A lot of the folks around here are farmers, but my family's trade was making iron casts. Even so, I had the chance to get to know everyone really well through the Aonoki Women's Association, which was organized in 1984 as a lifestyle improvement group in the Aonoki area. I guess that was around the time I turned forty. That was when my number came up to serve as the representative. Being the rep is tough in a lot of ways. You have to decide what to do for the agricultural festival and it's your job to bring people together. When I found that it was becoming hard to balance this with the family business, I decided to concentrate on my activities with the Aonoki Women's Association. The first issue was even though the locals were technically farmers, they weren't running major operations. They could raise enough for ourselves to eat, but was there not some way to offer any leftovers to others? So, after holding consultations with everyone, we decided to set up unattended stalls along the highway. Nowadays people take "farm-fresh" for granted, but in Kamaishi the Aonoki Women's Association was a pioneer. However, as it turned out, ninety percent of the produce ended up being taken without being paid for, and folks around here wouldn't hold with it. So we joined the Kamaishi Products Association. After that, word began to spread that Aonoki vegetables were delicious. That was a happy event, but it's also when I started to finally get very busy… Since I was the only one with a driver's license, I loaded up a two-ton truck with radishes and carrots and drove it to the market. How young I was then! (Laughs).
On Winning Kamaishi Its First National Land Agency Director-General's Award for Sen'nin chōrōgi
Ms. Ogasawara: One of the vegetables grown in the Aonoki area is a perennial plant of the Lamiaceae (mint) family that is called "Chinese artichoke" in English and chorogi in Japanese. It has been produced by farmers for a long time as a food to be eaten at the New Year. Shaped like a snail shell, it's quite cute, but the fact that it takes so much time and effort to grow is a bit of a drawback. Even when it is planted in May, a crop won't be commercially viable until November or December. Also, because they are so delicate and easily damaged, you have to dig them up one by one and then wash them by hand. They have an earthy smell and are easily discolored, so they have to be parboiled before shipping, which is to say there's no profit at all to be had from them. I was just at the point of wondering what to do when I had a request from the president of a hotel in Kamaishi asking for some pickles. In response, we set up a pickling association to work on the joint processing of chorogi, starting with some test batches of salt-preserved pickles and then using repeat trial and error to figure out the seasoning and other kinds of secondary processing… At that time, there was a big push to promote local products to the prefectural and national markets, and at the guidance of the promotion center we prepared a white vinegared variety and a red variety pickled in in plum vinegar. We made six kinds of pickles seasoned with things like soy sauce, miso paste, and kimchi. We named them sen'nin chōrōgi and started selling them in 1986. Although the characters we used for the name were a kind of pun (sen'nin chōrōgi can be read as either "hermit's artichokes" or "the venerable hermit's delight"), our timing was fortunate. A professor at Kyoto University published a research paper reporting that chorogi could help prevent dementia, which fired up interest, and we started getting a lot of orders from around the country – enough that we started to panic. We ended up dealing with a major pickle retailer and would get orders for one or two tons of product! As a result of working hard together, our sen'nin chōrōgi won awards at fairs at the prefectural, regional (Tōhoku), and national levels. We were selected to win first prizes from among sixty-five shops, and won Kamaishi its first National Land Agency Director-General's Award. I'd had no idea that having a connection to society could be so stimulating or rewarding. I'd been expecting to spend my whole life at home, raising the kids and helping out with the family business. So I'm happy, in a way, and I have to be thankful for my current happiness. But as serendipitous as they may have been, a lot of exciting things happened to me when I took the leap to get involved in society. It's like when you receive money, money that you earn for yourself will have a different value. Learning the economic concept of appreciating value, when I think about it that was what I learned from society after having been a housewife.
(Photo) A notebook kept in the restaurant filled with patrons' impressions of the curry and notes of gratitude for their encounter. "It's my treasure," says Ms. Ogasawara.