PEOPLE
Everything is for the Economic Development of Nagasaki--Expanding Beyond the Shipping Business to Pass on Nagasaki's Culture and Industrial Heritage
Chairman: Mr. Hidenori Date
President: Mr. Masahiro Date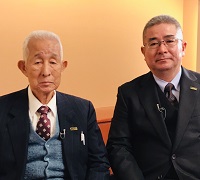 ーーYou really overcame huge hardships to get to where you are today. Looking back, what do you think the key to survival was?
Mr. Hidenori Date: Looking back I can say I had foresight, but we did really struggle for a long time. However, I knew that trailblazers always face difficulties. Persistence makes perfect, so I kept at it and though trial and error the business evolved. Another factor is that if you continue something long enough, there will come a time when the wind will be at your back. Thinking about it now, meeting Ms. Koko Kato was one of those times.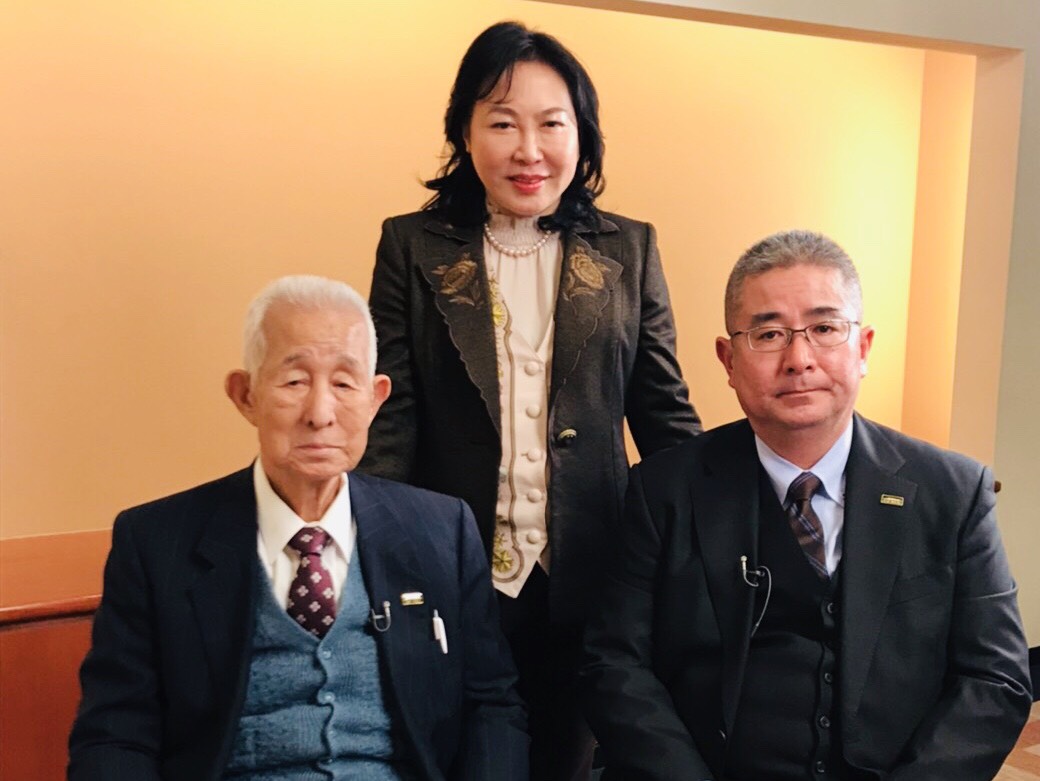 Mr. Masahiro Date: The first time we saw Ms. Kato was around 1998, I believe. She talked about wanting to inscribe Japan's industrial heritage sites on the World Heritage List. This was at the idea stage, before it was even called "Sites of Japan's Meiji Industrial Revolution." She said the industrial heritage sites would include historic sites and component properties within and outside Nagasaki Port such as Mitsubishi Heavy Industries Nagasaki Shipyard & Machinery Works and Glover Garden, and also Gunkanjima. How great it would be if this actually happened, I thought. But actually I took it as just a pipe dream. It was beyond me how we could get the industrial heritage sites inscribed on the World Heritage List. But before I knew what was happening, she laid out a course of action and made the dream a reality.
Mr. Hidenori Date: There was one other time the wind was at our backs. In 2003, then-prime minister Junichiro Koizumi delivered a speech at Kurogane Bridge in Nagasaki. He said that a new tourism organization called Japan National Tourism Organization (JNTO) would be established, and that Nagasaki has rich tourism resources and should strive to use tourism to recover. After that the director of the Kyushu District Transport Bureau Nagasaki Branch Office took the lead and launched the Local Public Transportation Revitalization Program to give developing tourism resources another try.
Mr. Masahiro Date: In the program tourism development was divided into three areas—the Sasebo - Huis Ten Bosch - Hirado area, the Nagasaki Peninsula area from Nagasaki to Gunkanjima, and the Shimabara Peninsula area. In the Nagasaki area, where our company operated, the plan was to develop a "sea route." So in July 2004 we developed a new regular service that would depart from Nagasaki, cruise offshore of Gunkanjima, and end in Nomozaki. This gained attention thanks to being covered on the front page of a major newspaper, and in 2006 we reached over 10,000 customers for the year. Then in 2007, then-Nagasaki mayor Iccho Ito had an idea to allow the general public to go ashore and tour Gunkanjima. A plan was formulated and in April 2009 our high-speed sightseeing boat Marbella was the first to offer the service. This really ignited Gunkanjima tourism.
Mr. Hidenori Date: Thanks to everyone's support, we weathered difficult times, and I'm glad we continued to focus on developing tourism resources. I feel we were rewarded for our efforts.
Masahiro Date: And I was of course happy when the World Heritage Committee decided to inscribe Sites of Japan's Meiji Industrial Revolution: Iron and Steel, Shipbuilding and Coal Mining in Bonn, Germany in July 2015. Hidenori didn't accompany me due to his age, but I went with our employees to the public viewing at Glover Garden. I was filled with emotion when I saw Ms. Kato's face filling the screen—it really hit home that her dream was realized. I remember yelling "Banzai!" with the other employees without caring what anyone else thought [laughs].
Mr. Hidenori Date: We had the good fortune to be able to do business in an area that was at the forefront of Japanese industry, connecting the "Golden Route" by ship—between Nagasaki and the coal mines of remote islands like Hashima and Takashima, and between Nagasaki and Omuta in Fukuoka, which flourished thanks to the Miike Coal Mine. So when I heard the news that it was going to be a World Heritage Site, it made me feel grateful for being blessed with this environment and want to continue passing on the culture of Nagasaki and history of its industrial heritage through the tourism business. And it reaffirmed my desire to expand beyond the shipping business to focus efforts on the development of Nagasaki. I want to express my respect for all the people who were involved in Japan's industrial revolution and give back to this area—that is our company's mission.
(Photo) Commemorative photo in front of a 1:250 scale model of Gunkanjima donated by Yamasa Shipping Chairman Hidenori Date (Mayor of Nagasaki is in the front row center, Hidenori Date is to the right, Ms. Koko Kato is to the left, and Yamasa Shipping President Masahiro Date is in the back)