PEOPLE
Kamaishi's "Miracles" and Overcoming Disaster: The Huge Opportunity Provided by World Heritage Site Inscription
Proprietor, Houraikan Inn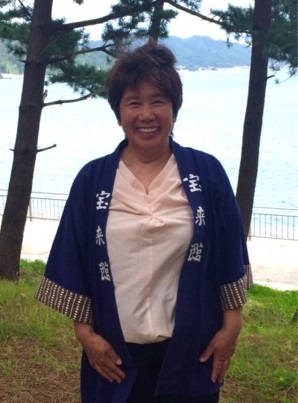 Connections between People Generate Great Strength
Koko emphasized that in order to inscribe the Sites of Japan's Meiji Industrial Revolution onto UNESCO World Heritage List, it would be essential for us to really envisage what we were striving for, to take action, and above all for people to connect with others. But it was the Tohoku earthquake and tsunami disaster that really convinced me this enthusiasm and conviction on Koko's part was unwavering.
In the Unosumai district where Houraikan is located, approximately 580 people lost their lives. I myself was engulfed by the tsunami along with the Houraikan, which stands right by Nebama Beach, but by repeating the mantra ikippesi, ikippesi (I have to survive) to myself I just about managed to escape death. From then on it was all a blur. Houraikan had been designated as an official evacuation site, so a steady stream of local residents came to us. But the roads had caved in so not even the Self-Defense Forces could get to us, and for five whole days we were cut off from the outside world. We gathered together every grain of rice we could find, cooked it using water from the big communal bath, and gave it to the children to eat. At night we made a fire in the open space in front of the inn.
On the sixth day, even before the local government arrived, a news crew for Today's Close-Up, a TV program by the national broadcaster NHK, turned up, and then some people from a commercial broadcasting station came. They were interviewing me, when somebody said "You have a visitor," and when I turned round, Koko was standing there. Shocked, I said "How did you get here?" and she said "I felt compelled to drive here from Tokyo myself." I was incredibly moved when I realized that she had spent 13 hours driving up to see us regardless of the danger. The car was packed full of all kinds of supplies that helped us more than I can say. And as a result, I was inspired by a determination to keep up the fight. I had experienced at first hand how connections between people generate great strength.
World Heritage Selection Was a Sign of Encouragement from Our Predecessors
After the disasters, I thought that an inn that couldn't save people's lives wasn't worth continuing. But when I found out that people doing the construction work to rebuild Kamaishi were spending nights in their cars, I thought that Houraikan could be useful to people, so I resumed business. We finished rebuilding the inn in January 2012. Now that eight years have passed since the disasters, I feel that there's life in every single thing that survived, whether it's a pine tree or a building. And I see myself not as "living," but as being allowed to live. I think that those who have been allowed to live have a duty to become storytellers and keep passing on the lessons we learned for the sake of future generations.
And there's another duty to be fulfilled by those of us alive today. Kamaishi's selection as one of the World Heritage locations is a sign of encouragement from our predecessors: we've been given a huge opportunity to move forward. We should be thankful to everybody who's been involved in the Hashino Iron Mining and Smelting Site as we take on new challenges and lay the foundations for rebuilding our hometown. What's important is to just keep at it. It may be some time before we achieve tangible results, but I will be working together with everybody in the community to move forward one step at a time.
(Interview and writing: Akane Maruyama)