PEOPLE
Gunkanjima Is a Warning Message for the Future of Earth and Humanity ~The Thoughts and Pleas of a Guide and Former Resident~
President of the NPO, Way to World Heritage Gunkanjima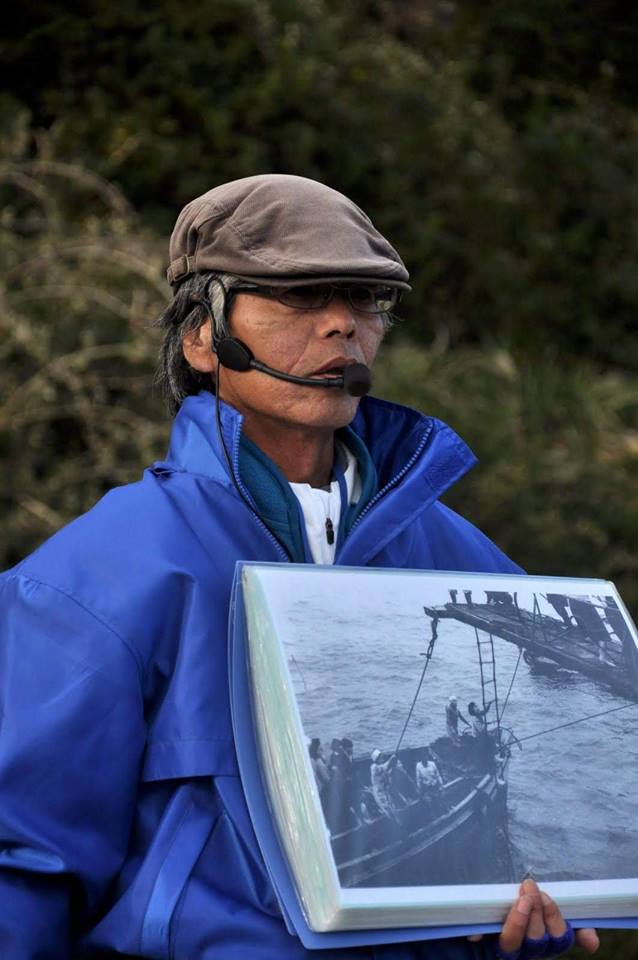 ■Revisiting Hashima 25 Years after the Mine was Closed
――I see, there sure are a lot of turning points in life. But your biggest turning point was when you were 45. It was 1999, right?
Mr. Sakamoto: That year marked the 25th anniversary of the closing of the mine and some of my former classmates started talking about having a reunion now that we were 45. But we all went our separate ways after the mine was closed and had no idea how to look up everyone's addresses. I was thinking about what we could do, when I realized that the Hashima Alumni Association—a group of former mine workers—had a list of people, so I looked up the current addresses of 90 classmates and sent out invitations.
When we got together I suggested, "Since we're all together, why don't we go to Hashima?" I figured everyone would raise their hands and be all for it, but surprisingly no one seemed interested. Of the 90 people we sent invitations to, 45 came to the reunion, and only two, including me, wanted to go to Hashima. I had already chartered a boat, and when I tried asking everyone again the day after the reunion, about half of the attendees said, "If you insist, let's go." But even when we were on board, about half of them said they didn't want to go ashore after such a long time. Seeing it from nearby was enough, they said.
――You lived in a unique, overcrowded living environment on an isolated island, and despite the fact your hometown supported Japan for an era, it was callously abandoned when the Japanese government's energy policy changed. Having spent their childhoods on Hashima, everyone must have had mixed feelings.
Mr. Sakamoto: Just getting there was difficult for one thing. There wasn't a pier like there is now, just a long stairway attached to the concrete wharf that led to the back of the where the school used to be. At the time you needed permission from Mitsubishi who managed the island to go ashore, but of course we didn't have permission. Our attitude was, "Why should we need permission to go to where we used to live." [laughs]
――What did you see when you stepped back on shore after 25 years?
Mr. Sakamoto: I saw the school playground and it was just like I remembered. When I was in junior high, we made a mosaic with tiles on the back of the wharf and they were still just like new. The mosaic my wife's class made on the other side was still there too—also just like new. I wanted to see where I used to live, so I found my building and went up to the ninth floor. The last time I went to the island, I unexpectedly had to leave without even setting foot on shore, so I didn't know what happened to my room or what my parents took and what they left behind. So, wanting to see for myself, I went back home after 25 years.
――Was there anything there that brought back memories?
Mr. Sakamoto: When I went in, I saw a little mailbox that I made at school when I was a child. In the closet were my school textbooks and notebooks my mother put together. The dresser was still the same too. In the kitchen I found the lunch box I used to use. My friend who came ashore with me went to his old apartment too, and saw the same kind of thing. The only thing I took with me was an old notebook.
At the time we all thought we would never come back again.