PEOPLE
Power to the People of Japan The Mission of Meiji Japan's Industrial Revolutionary Heritage
President of Watanabe Production Group and Honorary Chair of Watanabe Productions Co., Ltd.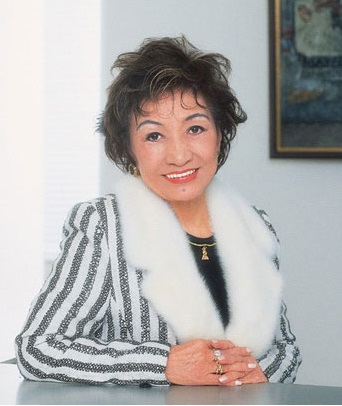 ーーYou were awarded the Medal of Honor with Blue Ribbon in 2012 to honor your achievements in nurturing the music industry and culture in postwar Japan, but the power of music is vast, isn't it. I feel that music is something that gave the people of postwar Japan a richness of spirit, encouraging it and supporting it, and teaching them that it was okay to dream freely. Watanabe Productions could well be described as having been a key player during Japan's high-growth period. People flocked to the Nichigeki Western Carnival held in 1958. Also, you created a honeymoon period for music and television in the early days of television – the nation's living rooms were flooded with music through programs that you produced, such as The Hit Parade and Soap Bubble Holiday, which heightened the motivation of the Japanese people.
Thank you! My husband Shin Watanabe and I wanted to bring a smile to the faces of everyone in Japan. We were always thinking "What was the best way of making everyone happy? What could we do in order to instill a spirit of wanting to do our best day after day?" Thinking seriously, various ideas came to mind. Don't fathers and mothers work as hard as they can to see their children's happy faces? There may be a limit to how much people are willing to persevere for their own sake, but there is no end to how dogged they can be for someone else. Saying perseverance sounds like a trial, but when you are giving your all for someone else, it can be a source of pleasure. To my mind, happiness is being able to find joy in that pleasure.
Music is craftsmanship – what we call monozukuri in Japanese. The great happiness that I have found through my work rests on a spirit of monozukuri that has been nurtured through the trials and errors by which the industrial state of Japan has sought to enrich the country. So I would like to pay tribute to everyone involved in Meiji Japan's industrial revolution. Since Koko was giving that idea physical form, I knew that I had to give her my support, and felt not even the slightest hesitation in doing so.
ーーHow did you support Ms. Kato, specifically?
I didn't do much, really. But since I have dealings with a lot of different people due to the nature of my work, I introduced her to several whom I could trust to show an understanding of Koko's activities and to be able to support her from a funding perspective.
I've always liked connecting people. Whenever I make an introduction, there's always a part of me that is already envisioning the scenario of something wonderful happening. For example, I sometimes feel that a person might have talent, but that this talent is coming to naught because he or she hasn't found the right fit – and when I think that, I immediately leap into action. In fact, I've seen countless cases where matchmaking among artists like singers, lyricists, and composers results in the creation of a hit song. It's a joy that is beyond comparison – because it's your own inspiration having a powerful effect on so many others. In other words, that's the real thrill of my job.
Koko and everyone else involved in getting the Sites of Japan's Meiji Industrial Revolution inscribed onto UNESCO World Cultural Heritage List also had their eyes fixed on a bright future for Japan. The sincerity of their ideas is precisely why their dream came true.
ーーThis October, "Rally Nippon" will be held as an event involving classic cars touring the Sites of Japan's Meiji Industrial Revolution in Kyushu, and I've heard that you were inspired by the idea of linking classic cars with these World Heritage Sites.
I encountered Mr. Yusuke Kobayashi, the representative director of Rally Nippon at a meeting, and when I learned about what he was doing I said to him, "Have you tried telling Koko what you're up to? I'm sure she should be able to help you."
After all, she'd gone to all the trouble of getting the sites listed as World Cultural Heritage, right? I worry that this will be overlooked if we don't spread the word a bit more, and I feel that there's a need to generate some excitement in order to secure buy-in for conservation activities. Of course, I was thinking that it would be great if we could host some major event. When you want to spread the word about something, you have to launch it in grand style – my feeling is that however much you dress up something half-baked, you will only ever get half-baked results.
This is a fusion of classic cars with industrial revolutionary heritage.
The desire to see so many stylish classic cars racing at once will be sure to bring not only classic car enthusiasts, but many other people from all over the country. When everyone takes photos and uploads them to social media, people will see the industrial heritage of Meiji Japan playing another leading role in the background. From there, some will learn that the sites have been inscribed onto UNESCO World Heritage List, and some will take an interest. Those who are impressed will spread the word.
My inspiration came to fruition unexpectedly quickly, and I felt right away that this would work. What you need when you are going to move something is momentum. The old saying is that "there's no time like the present" right? No good result ever came of dilly-dallying. Proceeding carefully is important, of course, but every path is littered with things that you have to try doing to understand. You could say this is a philosophy I learned through my work.
In the entertainment world, if you do things hesitantly, your ideas might be poached by someone else, and the enthusiasm of those involved may cool. You need to read the zeitgeist and be half a step ahead. That's why I feel that you need the courage to act based on your instincts.
Speaking of which, Koko, who got the ball rolling for the Sites of Japan's Meiji Industrial Revolution into World Cultural Heritage, is also a courageous person.
Also, while the Agency for Cultural Affairs was caught up on the fixed notion that only cultural heritage and natural heritage were worthy of being World Heritage, those who strongly argued in favor of including industrial heritage showed themselves to be adept at foresight. An instinct for judging what's going to work and what is not works through the accumulation knowledge. Astute judgements by people with a wealth of experience led to great hope.