PEOPLE
Days of Heated Argument with the Unforgettable Stuart Smith~A Cross-Cultural Encounter with Familiar 19th-Century Industrial Heritage~
World Heritage Consultant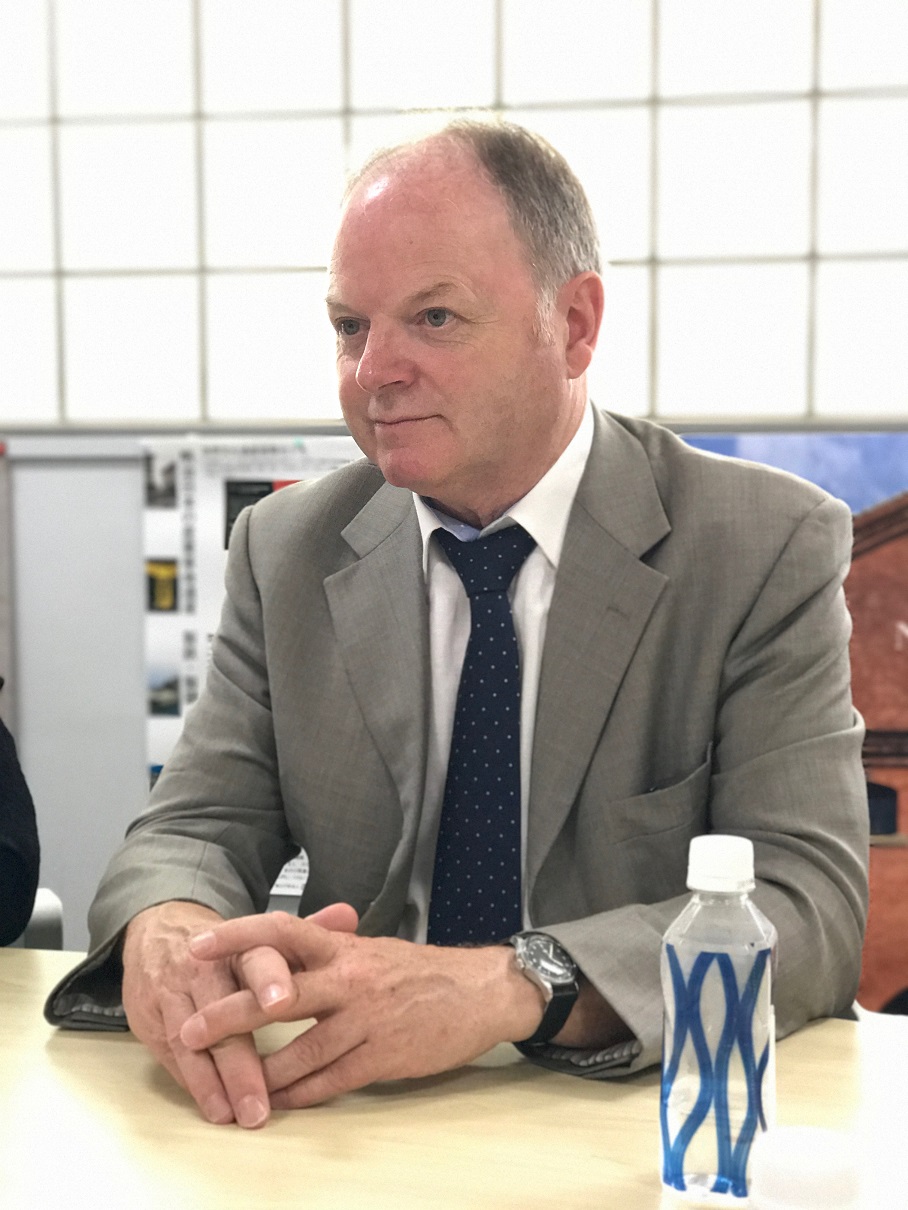 Be Proud of the First-Ever World Heritage Registration of "Working Industrial Heritage"!
――I've heard that there are no precedents for the attempt to have an active working heritage site listed as World Heritage.
Mr. Gamble: That's right. This was a major challenge for the corporations that own the properties, as well as their shareholders. Not only that, it could be said to have been a major challenge for the Japanese government and even for the UNESCO World Heritage system, as well. Japan has paved the way for the registration of working heritage. More than anything, inscribing a working heritage site entails the need for stakeholders to share value and understanding, and for mutual cooperation through public-private collaborations and partnerships. This site was revolutionary in that it successfully overcame these thorny challenges to achieve registration.
In that sense, I feel that everyone involved in the Sites of Japan's Meiji Industrial Revolution should be proud not only of the fact that this property has been recognized as World Heritage, but that it was the first to have overcome the difficult challenge of inscribing active working heritage sites as World Heritage, as well. In the sense that they tackled difficult problems without getting caught up in legacy frameworks of heritage conservation, I feel that the continued spirit of determination on the part of stakeholders to meet this challenge serves as a wonderful model to follow.
――Could the very idea of "currently active working heritage" in itself be described as something rare outside Japan?
Mr. Gamble: Of course there are many such working heritage sites in Europe and the United States, as well. For example, whether it's a church, a cityscape, or a port, people are still going to be living there. With respect to the industrial facilities that we are talking about here, however, we could say this is an incredibly rare case. I think it's just fantastic that the management and unions of Mitsubishi Heavy Industries and the Nippon Steel & Sumitomo Metal Corporation came together to promote the conservation of these facilities.
――Would you say wanting to preserve "working industrial heritage" was a novel way of thinking?
Mr. Gamble: No, not at all. The concept of "working heritage" has long been a part of the World Heritage Convention. Realistically speaking, however, all of the industrial heritage sites that had been inscribed onto the UNESCO World Heritage list up to that point had all been obsolete and abandoned "relics of the past." In that regard, you could say that this heritage, being the first case to include production facilities still being used in corporate activities, has opened a new page in the history of UNESCO World Heritage.
――Does that mean that the Sites of Japan's Meiji Industrial Revolution could be regarded as a valuable time capsule conveying the image of industry in the nineteenth century?
Mr. Gamble: Certainly, several of the component properties we selected could be described as time capsules conveying the image of technology or else technology transfer during the nineteenth and early twentieth centuries. More than that, though, the fact that these technologies and facilities have been used continuously down to the present day speaks to the success and development of Japan's heavy industry. I think there is more value in that respect.