PEOPLE
The next generation of technological innovation is born from carrying forward history and culture. - Sites of Japan's Meiji Industrial Revolution open the way to "conserving while using"
Executive Director of Kogakuin University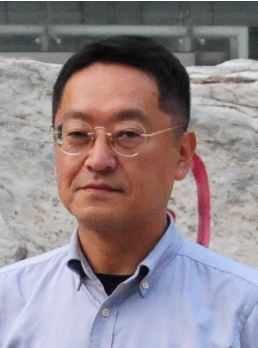 Bakumatsu or Meiji –Two options in creating the registration system
Q: We have gone over the long "prelude" that preceded the registration of "Sites of Japan's Meiji Industrial Revolution" as UNESCO World Heritage sites. What role did you play in registering the sites as World Heritage sites?
When was it that we started working on the registration process? One day, Ms. Kato came to see me accompanied by then President Kimiyasu Shimazu of the Shoko Shuseikan Museum in Kagoshima. I imagine that by this time, Ms. Kato was very confident that "Japan's industrial heritage sites could be registered as World Heritage sites." She was very well informed of various successful cases overseas, and she was also in close contact with specialists in other parts of the world. I suppose that is where her confidence came from. The only question was how to go about the process. Again, this is my supposition, but I imagine that Ms. Kato had already figured out a "scenario for presenting and registering Shoko Shuseikan." What remained was scripting the story of this institution. At about this time, the Cultural Agency was beginning to say that it would add locally nominated sites to its provisional list of World Heritage candidates. That's why they came to consult with me.
The suggestion that I made to them at the time was, "There are two possible story lines." One would limit the timeframe of the project to the "Bakumatsu and Restoration periods" that preceded the Meiji Era. The other approach would cover a considerably longer period of time, starting with the Bakumatsu period that immediately preceded Japan's industrial revolution and extending to the early years of the 20th century when Japan was making its debut on the forefront of industrialization. Each option had its own merits and demerits, but I was not in a position to suggest one over the other. Thus, I went no further than to point out the two possibilities.
Q: What specifically were these merits and demerits?
From a domestic perspective, the former option was clearly advantageous. Within Japan, this approach would be far easier to understand and to gain public support. But from Ms. Kato's perspective, the latter timeframe was preferable in the sense that it would be more appealing to the world. After all, Bakumatsu is no more than a construct in Japan's inner history. On the other hand, the latter timeframe has far-reaching and global historical significance.
Another point to keep in mind was geographic scope. Essentially, the former approach would be geographically limited to Kagoshima and Yamaguchi Prefectures that stood at the center of the "Satsuma-Choshu alliance." By contrast, the latter approach would expand the geographic scope to include the other prefectures of Kyushu. Here was a new possibility that did not exist in Japan's earlier efforts to register World Heritage sites. In other words, here was a chance to engage a wide geographic region in the registration process. I made these comments from an objective perspective as an individual researcher.
At about this time, the Kyushu Shinkansen bullet train was very close to starting operations, and many of Japan's "industrial revolution heritage sites" were located along the route of the Kyushu Shinkansen. (Laugh) With that in mind, I advised them that this could be one way of looking at it.
Q: So, that was the starting point. As it turned out, things moved in the direction that you had suggested.
Later on, Ms. Kato and I visited the then Governor Yuichiro Ito of Kagoshima Prefecture and I repeated these thoughts to the governor also. The Kagoshima prefectural government considered various possibilities. Although the "Bakumatsu timeframe" would clearly have been the more advantageous approach for their local communities, the prefectural government rose above its own narrow interests. I believe Governor Ito must be lauded for his wisdom and decision that opened the path to the present shape of things.
Q: The next big step was the Cultural Agency Council that was tasked with determining what would be entered on the provisional list for World Heritage sites.
This is how the process worked. Nominations were received from throughout Japan. These were then categorized by theme and submitted to expert working groups charged with examining and verifying the nominations. At the time, I was a member of the Modern Properties working group. The Tomioka Silk Mill had already been placed on the provisional list. Other nominees included the Sado gold mines, the erosion control dams of Toyama Prefecture, and the Ashio copper mine. The experts were tasked with determining which sites to recommend for listing.
At the start, the category "Sites of Japan's Meiji Industrial Revolution" was considered to be a somewhat odd and unusual candidate. While all other sites had all been nominated by a single entity, such as a prefecture or municipality, this had been nominated by the Conference of Kyushu Governors and covered a very broad range of properties. It was inevitable that the Cultural Agency looked at it with a certain degree of discomfort at that time.
Q: As a result, it was initially rejected. (Laugh)
It is true that the Cultural Agency initially took a very cool attitude toward "Sites of Japan's Meiji Industrial Revolution." On the other hand, it did not take long for the members of the working group to appreciate the significance of the nomination. After all, they were all specialists in modern Japanese history. As it turned out, "Sites of Japan's Meiji Industrial Revolution" came in second only to the Sado gold mine.
But there were other difficulties that had to be surmounted. The Cultural Agency had set a certain rule at this time. A nomination added to the provisional list could not become a true and final candidate unless its constituent elements had been registered by the national government as cultural properties. The problem with the "Sites of Japan's Meiji Industrial Revolution" was that with the exception of the Shimazu Shuseikan, almost all of its constituent elements were unregistered. Thus, although it had been added to the provisional list, there was a persistent sense that, "As it stands now, there is no hope for registering this as a World Heritage site."
One of the suggestions given was that the project should be "subdivided into smaller and independent units." As I mentioned before, the Tomioka Silk Mill was already on the provisional list. So, the thinking was that a steel mill or a coalmine should be nominated for listing as a separate and single entity. This was logical enough, but this approach would have diluted the historical significance of the industrial heritage that allowed Japan to become the first nation in Asia to successfully modernize.
Q: Would it be correct to say that you emphasized this particular point in countering the opposition to this nomination?
No, no, I would not go so far to say that we had to fight for it. (Laugh) The question was really quite simple. How can we appeal to the people of the world and explain the global significance and meaning of Japan's modern history? We were discussing these questions with experts in Japanese history and modern history. It took very little time for them to understand and support what we were proposing.
There was another point that I emphasized, and this was the scarcity value of operational properties that remained in use in Japan only. Although this line of argument was not really appreciated within the working group, I believe it was an important point. It is true that various European and American industrial heritage sites had already been registered as World Heritage sites. While these represented core European and American industries from an earlier age, they had been devastated by Japanese rival companies and industries that had rapidly gained competitive strength. As a result, these industries had ceased to exist, and their facilities were no longer operational or in use. The situation in Japan was very different. For example, consider Mitsubishi Heavy Industries' Nagasaki Plant or Nippon Steel & Sumitomo Metal's Yawata Steel Works. The manufacturing facilities from an older age are still "live" and in operation. Globally, this is a very rare and valuable phenomenon, and can be said to be extremely interesting. I presented my views on this point.
Q: I see your point. Core industries of the advanced economies of Europe and America were defeated in competition with their come-from-behind Japanese rivals. While industrial heritage sites remain in these countries, none of them remain in operation. That is why Japan's industrial heritage sites are of value. I assume that this is one of the reasons why Western experts attach great value to the "Sites of Japan's Meiji Industrial Revolution."
That is right. Western experts who are able to appreciate this historical value objectively, fairly and in a scholarly manner should be lauded for their wisdom and insight.