PEOPLE
Path to becoming a World Heritage Site
Pro-Provost and Chairman of Council of the Royal College of Art. Heritage advisor of Canal & River Trust for England and Wales.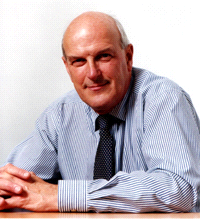 What was the most impressive event you have experienced in the process of nomination?
There were several. For me it was a great honor and privilege to be invited to chair, over some eight years, the consortium that examined the full range of sites from which were selected the final group that went forward for inscription.
Meeting so many people from local communities and gaining such a vivid reflection of their own enthusiasm for the World Heritage proposal was both moving and inspiring. This consultation program brought out the extraordinary pride of place that people felt for these outstanding cultural assets. Later, to work with senior figures in Government in pulling together the final nomination document was a salutary and satisfying experience, reflecting the weight and authority of Japan as a nation and its commitment to presenting a great case to UNESCO.
Could you please let us know your impression of Koko since you referred to her, in the celebration party in Bonn, as the most unreasonable woman in the world?
In congratulating the Japan delegation on the evening celebration of the successful inscription in Bonn I drew on two quotations. The first was by Queen Victoria who said "We are not interested in the possibilities of defeat: they do not exist". This seemed to capture the spirit that throughout had driven the nomination process.
The second was by the celebrated Irish philosopher George Bernard Shaw (1856-1950) who said "…. all progress depends on the unreasonable man" ('Man and Superman', 1903) and then went on to say that he might also have added "the unreasonable woman"! This was in order to illustrate that the nomination could never have happened if it had not been for the drive and determination of Koko Kato. Her resolve was beyond measure and without it we would never have succeeded.
In suggesting that she was the most unreasonable woman I had ever come across immediately struck a chord with the whole Japan team, all of whom had been subject to her vigorous driving of the project forward. The applause and laughter that followed was both a recognition by all that we owed so much to Koko, great affection for all she had done – and relief that it was all over!
How did you feel about the inscription of the Sites of Japan's Meiji Industrial Revolution?
It has been a long haul to get the nomination prepared, the result of extraordinary efforts by everyone concerned, so I feel both proud to have contributed to the project and delight that it led to a successful inscription.
What do you expect from Japan's government in planning Meiji Industrial Revolution's Interpretation strategy?
It is essential that the series and the sites of which it is composed are interpreted as part of a carefully co-ordinated strategy. This is necessary in order to ensure consistency of message and coherent branding so that the sites are all seen to be parts of the whole series.
I heard you are deeply involved in the process of developing the interpretation strategy. Could you please tell us a little bit about it?
I'm keen to contribute to the wider interpretation program but need to see the strategic framework and, in particular, a timetable and management plan. This needs to be tightly programed and managed with a single manager in charge with full authority – and funding – to drive the program to completion.