PEOPLE
World Heritage Inscription: Report on the 2015 Celebratory Party Held in Bonn, Germany
At the 39th session of the World Heritage Committee convened in Bonn, Germany, from June 28 to July 8, 2015, the decision was approved to inscribe the Sites of Japan's Meiji Industrial Revolution on the World Heritage list.
At a celebratory party held to mark the occasion, some of the primary promoters of the project spoke of their joy in achieving their goal and of the trials and tribulations to getting there.
Background of World Heritage Inscription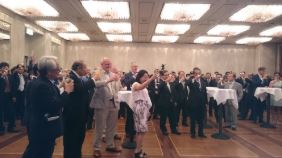 Address by Mr. Masanori Aoyagi, Commissioner for Cultural Affairs
Ms. Koko Kato mentioned that returning oversight of the World Heritage properties to the Agency for Cultural Properties would mean putting them on the endangered list. But I am not so sure. After all, those operating facilities may be getting tired and wishing they could stop and rest
As you are surely aware, Japan owes much in its industrialization to specialists from overseas, particularly those from Great Britain, with whom we share a strong historical connection.
The Industrial Revolution began in Great Britain 150 years ago with much of the development in engineering taking place in Glasgow. In 1870, a young Glasgow engineer named Henry Dyer arrived in Japan. This is the person who helped to establish the first engineering school in Japan which would later become the Faculty of Engineering at the University of Tokyo.
When he returned to Great Britain, Dyer aptly noted in a lecture he gave that there were no European universities with engineering departments, only polytechnic institutes. Yet Japan had a whole faculty in its leading university devoted to engineering. Great Britain, he warned, would be taken over by Japan if it did not wake up to the need to have engineering departments within the highest centers of learning.
It is also interesting to note that when Dyer stood up to present his lecture, he was introduced as a "scientist." But he quickly refuted this, say, "I am a man of science, not a scientist." This holistic perception of his calling is something that Japan still needs to catch up with.
As these thoughts go through my mind, I would like to commemorate today's World Heritage inscription by giving a toast to all the many people who worked to make this possible.
Address by Sir Neil Cossons


On behalf of our many friends outside of Japan, I would like to convey our heartfelt congratulations on this great achievement today. This was a truly wonderful nomination, very innovative, revolutionary, and new, and presents a whole new kind of challenge to UNESCO's undertakings to date. This is a completely new way of thinking.
There is something about Ms. Koko Kato that I must mention here.
The famous Irish philosopher George Bernard Shaw once said, "…all progress depends on the unreasonable man." I think we should add to that "unreasonable woman" as well.
For surely, Koko is probably the most unreasonable woman I know. She can be very difficult at times and there are occasions when it is impossible to meet her demands.
Professor Izumi, you have no idea. You are lucky if you only get 30 emails a day from her. I go out in the morning, return home in the evening, and when I ask my wife if there are any messages, she says, "Koko telephoned you five times."
But I would like to emphasize, Koko's persistence reflects her dedication, focus, determination to proceed without compromise, her strong commitment to this project. It is thanks to her that we are here today celebrating this inscription.
So, to this very unreasonable woman, Koko, who has caused us much pain and anguish, I wish to say thank you. Thanks to you, Koko, we are able to celebrate today. Thank you very much.
And I would also like to thank everyone here today. It has been an honor, and a wonderful opportunity, for me to work with you on this project over the past few years. Your commitment to and strong belief in this project is to be commended and I am sure that is what has brought us to this successful conclusion.
Finally, I would like to address one point that I hope you will never forget. We have had to deal with complex national issues over the past few weeks. Of course, we must tackle the problems that are the source of these issues, but this in no way invalidates the value of the core heritage properties that date from the mid-19th century to around 1910. This is the period in which Japan was transformed from an isolated, feudal country to a modern nation. This is at the core, and the primary reason for, the serial nomination.
I would like to close now with the words of Queen Victoria.
"We are not interested in the possibilities of defeat; they do not exist."