PEOPLE
From Kamaishi to Yawata: The Proud Heritage of Japan's Modern Iron Industry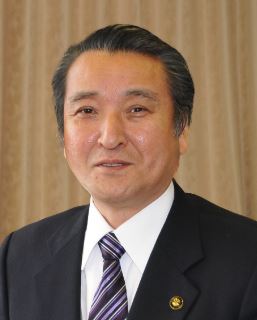 A Whirlwind in a Miniskirt
 While the Kamaishi ironworks were a designated national historical site and we certainly knew they were an important heritage of our country, getting listed as a World Heritage Site had not occurred to any of us in Kamaishi. But then Ms. Koko Kato whirled into town wearing a miniskirt and announced that we should become a World Heritage Site. I still clearly remember the sight of her darting here and there in her miniskirt despite the winter cold. In 2007, she brought Stuart Smith to town to hold a World Heritage symposium. I was a member of the prefectural assembly then when I spoke with Koko for the first time. I remember her wearing a miniskirt then too. Despite her status, Koko always appeared alone without an entourage. A remarkable woman.
 Back then, there weren't many people in the city government who were enthused about getting listed as a World Heritage site. I am told Deputy Mayor Sano supported the idea but that everyone else was against it. Yet here we are today, a bona fide World Heritage Site. I cannot express in words how this makes me feel.
Kamaishi's History is Japan's History
 I was among those who had never thought of making Kamaishi a World Heritage Site. But once the idea was planted in my head, I decided to set up a study group to learn more about our town's history and the history of the iron and steel industry. It all began when iron ore was discovered in the Ohashi mines. An official named Abe Tomonoshin dispatched by the Tokugawa shogunate pronounced the iron ore to be of very high quality. As it happens, one of my ancestors was with Abe Tomonoshin at this time. To this day, there is an official document listing my ancestor as the only Kamaishi resident to accompany Abe Tomonoshin. And there is a huge magnetite boulder in Kamaishi as large as a whole house, that was, in fact, located at my home.
 Iron is an integral part of Kamaishi's history and the only reason we were able to grow from a tiny little hamlet of only seven houses to a real town. In the Sanriku region where we are located, the towns of Otsuchi and Yamada were better off than we were. Iron made all the difference. Kamaishi traces its beginnings to when the engineer Oshima Takato built a blast furnace at the Ohashi iron mines. Not long after, a hamlet formed in Hashino that soon grew into a proper town. Our history has always been in tandem with the history of the ironworks.
 It should also be noted that the first Japanese nautical charts were drafted in Kamaishi, not Yokohama. And while the first railway line in Japan was the line from Shinbashi in Tokyo to Yokohama, and the second, between Kobe and Osaka, the third was built in Kamaishi. Japan's emergence as a modern nation follows the exact same path as Kamaishi's emergence as the center of Japan's iron and steel industry. Our history is Japan's history.
Reviving Hope in Decling Regions
 As iron and steel production increased and Japan's modenization advanced, so did the fortunes of Kamaishi. But in the Second World War, Kamaishi was one of the first targets on the main island of Honshu and was twice bombarded to near oblivion by warships. We managed to rise out of the ashes, however, just as the whole country of Japan did in the postwar years, with companies expanding and developing and now restructuring and shrinking. Today, Kamaishi is suffering from a plummeting birth rate and dwindling population, a portend of what Japan as a whole nation will face two decades hence. Yuji Genda, a professor at the University of Tokyo famous for his study of the NEET ("Not in Education, Employment, or Training") generation, once carried out fieldwork in Kamaishi that led him to question whether there was hope for a town such as ours. He even went on to develop a whole field in the "social science of hope." I like to think that in our many efforts Kamaishi holds a major key to a roadmap for Japan's future
Taking Pride in Our Country
 We began with the intention of preserving the heritage of the Hashino Iron Mining and Smelting Site, but as Ms. Koko Kato explained to us, the mines would be just one of the components in a new style of serial nomination for World Heritage listing. Each component was a proof of heritage, but the true World Heritage was the story conveyed by these components. It wasn't until we joined the Consortium and I heard Ms. Kato's explanations that I finally understood what this meant.
 Until then, we were only thinking of the Hashino Iron Mining and Smelting Site. But as we listened to everyone's stories, we came to realize that the Sites of Japan's Meiji Industrial Revolution represented the accumulated efforts of the people of those times as they worked to build a new Japan. To take this idea to its extreme, the question arises, do we take pride in our achievements as Japanese? The Meiji period marks the start of Japan's modernization. If we can't take pride in that fact, I don't see that Japan as a nation can have a very bright future. I have heard that our schools do not cover this era of Japanese history very well. Perhaps the scars of defeat in the Second World War are too deep. I think we stand at a dangerous crossroads. One step in the wrong direction could cost us our identity as a nation. No matter how economically advanced we may be, our relationship with our neighboring countries remains precarious. How do we want to live as Japanese? What meaning can we find in our lives? I think the five decades covered by the Sites of Japan's Meiji Industrial Revolution tell an important story that can help us to answer these questions.
 Hashino was just a collection of iron mines. At least that was what I though initially. But not anymore. The incorporation of the mines into a World Heritage speaks of Japanese pride. This is different than our feelings for Mount Fuji or even Hiraizumi which are places to be viewed and admired. The Sites of Japan's Meiji Industrial Revolution speak to our inner core, to the Japanese DNA. There is a critical learning process here for the Japanese people. These sites are to be viewed, but they also teach us something important, something that is long-lasting.
 Among the people of those times, the Choshu Five are perhaps the most impressive. These young men from the Choshu domain (now Yamaguchi, the westernmost prefecture on Honshu) were in their early twenties when they secretly left Japan to study abroad. The stayed in England and attended University College London only a few months but managed to master English in that short period of time and later returned to become leaders of a new Japan. They were really incredible. I often compare the Shokasonjuku Academy, a private school in the Choshu domain, to the Hashino Iron Mining and Smelting Site. If you visit the Shokasonjuku Academy today, all you will find is an old house with only one 8-tatami room. But this is where such greats as Hirobumi Ito studied history. Ito and the students of this little school were to be the makers of a new Japan. The building itself may be old and unimpressive, but what took place in that building was phenomenal. It is the same for the Hashino Iron Mining and Smelting Site. There isn't much to see, just a pile of stones, really. But there is a story in those ruins, a story that Kamaishi must tell. I hope, with the help of the Consortium, we can create the story that needs to be told.
 Other towns with World Heritage sites, like the cities of Kitakyushu or Hagi, have strong foundations on which to build their stories. But it is different for Kamaishi. You cannot judge the value of the Hashino Iron Mining and Smelting Site just by looking at them. Who is going to even bother to make their way into the mountains where the ruins are to be found? And when those who do venture that way come back and complain, "There was nothing but a pile of stones," how should we respond?
 Ms. Koko Kato is no less a powerhouse than the Choshu Five. It is thanks to her energy and drive that we have come as far as we are today. I cannot thank her enough.