NEWS
VR available at the viewing space of the First Head Office, Imperial Steel Works, Japan
14 Mar 2018
On 14th March, 2018, a new guidance service using virtual reality (VR) was launched at the viewing space of the First Head Office, Imperial Steel Works, Japan, one of the component parts of 'Sites of Japan's Meiji Industrial Revolution' World Heritage Site.
Since the operational site is not open to the public, the owner responded to visitors' requests that they would like to gain a closer look, and created variety of content.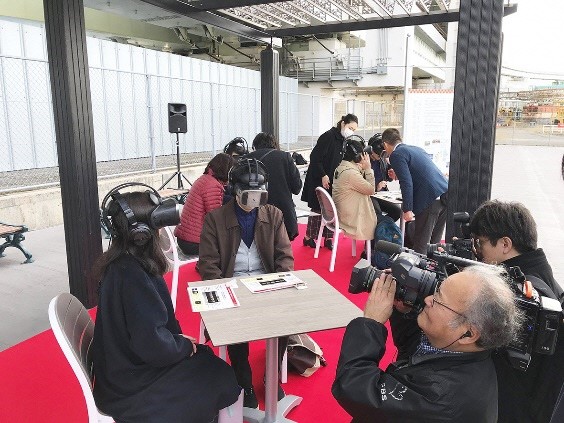 VR Test Session (Credit: Kitakyushu City)
Contents
1. History: Photos were reproduced directly from glass dry plates owned by the Imperial Steel Works, Japan, and Nippon Steel & Sumitomo Metal. These contained the history of the Steel Works from its foundation, construction and the start of business. Authentic stories convey the historical value of the Imperial Steel Works, Japan, using this valuable primary source material.
2. Time Travel: You can travel back to a century ago with computer graphics technology that reproduces the scenery of those days. You can enjoy two different kinds of content: of the "First Head Office", and the "Repair Shop", two of the components of the Steel Works.
3. Virtual Tour: A 360-degree virtual tour enables you to view the "First Head Office" as if you were walking inside. This has been made possible from 'point cloud data' measured with a high precision laser scanner following World Heritage inscription.
4. View from the Sky: Videos have been taken, by drones and 360-degree cameras, from the viewing space of the sky. You can learn about the three component parts, "First Head Office", "Repair Shop" and "Former Forge Shop" as well as the space of the Higashida Blast Furnace No.1 and Kitakyushu Innovation Gallery & Studio while enjoying the exhilarating 'bird's eye' views from above.
■When: From 14th March, 2018
■Time: 9:30-17:00 (Admissions until 16:30) *Closed on Mondays / Year-end and new-year days
■Admission Fees: Free
■Place: The viewing space of the First Head Office, Imperial Steel Works, Japan (Address: Ooaza Edamitsu, Yahata Higashi-ku, Kitakyushu-Shi, Fukuoka-ken)
■URL: http://www.city.kitakyushu.lg.jp/kikaku/01901122.html
<Inquiry>
World Heritage Division, Policy Department, Planning and Coordination Bureau, City of Kitakyushu
TEL: 093-582-2922