NEWS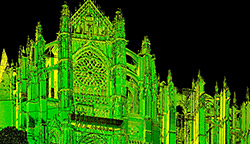 CyArK Project
01 Apr 2015
CyArK is the foundation established in California, USA, in 2003 for the purpose of succession the historical and cultural properties to posterity. Some 500 heritages are precisely scanned with high speed 3D system in real time and CyArk gets a high valuation for these digital preservation efforts. As its very first 3D laser scanning project in Japan, Kiso electric power station in Kagoshima Prefecture was chosen. Although Kiso electric power station is not Japan's Meiji Industrial Revolution Heritage, as CyArK is putting strength into digital preservation of hydroelectric power generations and dams, Kiso electric power station was chosen as a candidate.
On October 7 and 8, 2012, CyArK 500, Annual Summit 2014 was held at United States National Archives and Records Administration in Washington DC and Koko Kato, the managing director of National Congress of Industrial Heritage (NCIH) was invited as a guest speaker.
National Congress of Industrial Heritage (NCIH) will promote the properties digitization efforts in cooperate with CyArK.